After being rejected just a month earlier, optometrists in Arkansas reworked their scope of practice proposal just enough to assuage state lawmakers' lingering concerns. The newly composed legislation—HB 1251—was approved Wednesday by the state's Senate 25-8 (with two abstentions). The bill aims to modernize optometry by updating its definition as well as that of ophthalmic surgery. It was passed by the House on March 6, 70-19.
The bill's "bipartisan support is a testament to the importance primary eye doctors deliver," says Barbara Starkey, OD, president of the Arkansas Optometric Association. "The most exciting aspect of the progress made is that families across the state are just one step away from having much greater access to comprehensive eye health and vision care, with doctors of optometry being authorized to practice near the fullest extent of our training."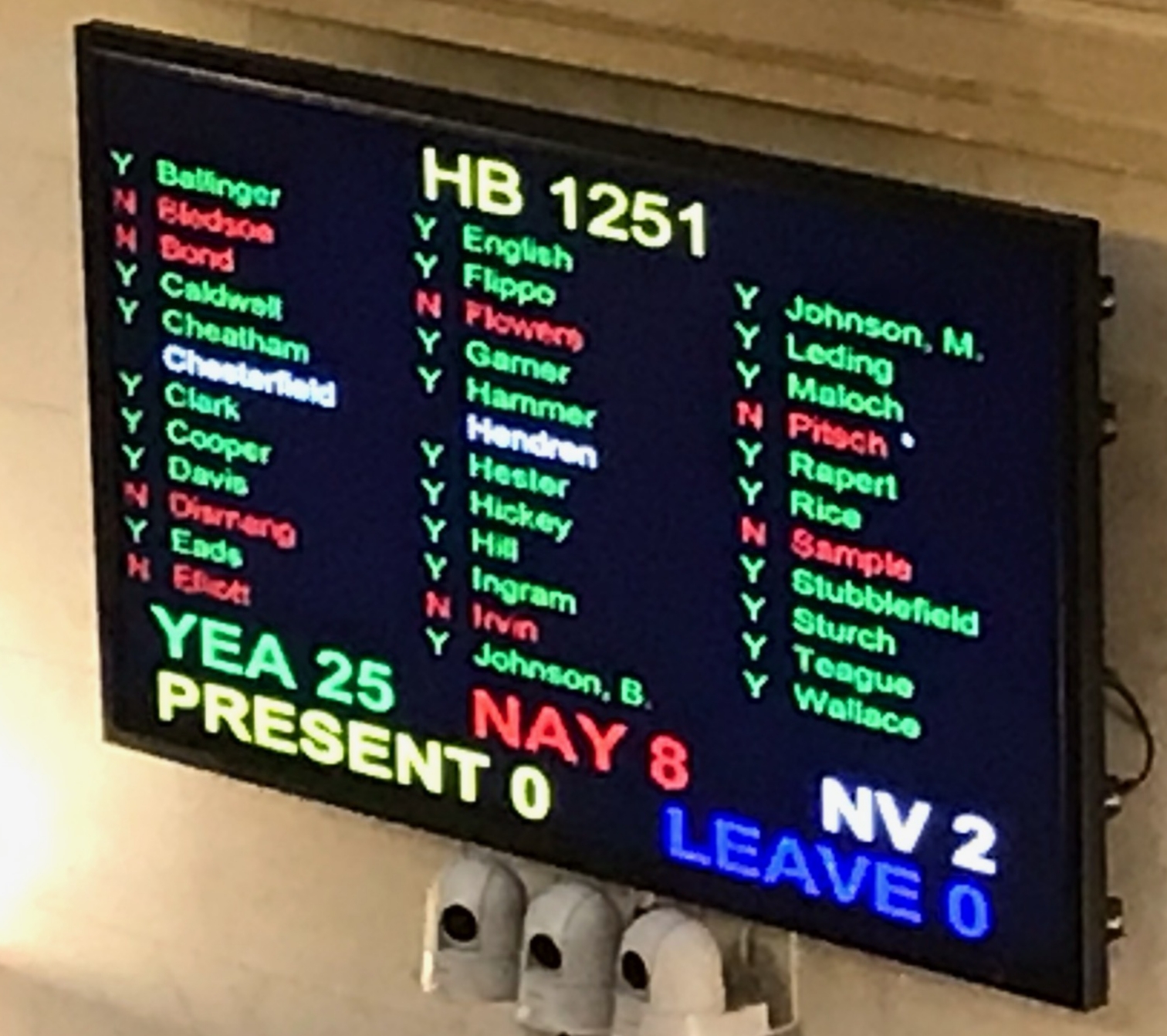 ODs are celebrating the passage of Arkansas's HB 1251, which will update the profession's definition and expand the scope of practice.
Photo: Barbara Starkey, OD/Arkansas Optometric Association.
The state's definition for the "practice of optometry" had previously excluded exclude surgical procedures of the lid, adnexa or visual system, which requires anything other than a topical anesthetic. In the new definition, those restrictions have been removed.
Additionally, the legislation, which is being transmitted to the governor's office today, removes previous prohibition against ODs using ophthalmic lasers for surgical procedures.
The original bill—the one that was rejected last month—was one of exclusion, meaning the state's optometry board would independently approve indications with the exclusion of certain procedures. "The exclusive language was removed," explains Dr. Starkey. "The bill is actually inclusive after [it was] amended."
The Arkansas Medical Society has been encouraging its members to lobby against the bill with regular updates on its website about what it calls the "optometrists eye surgery bill."2 The Senate even heard testimony from a patient who, claiming ODs complete their surgical training in 48 hours, says a laser procedure damaged her vision.2
Dr. Starkey published a piece in the Baxter Bulletin on Sunday rebutting claims from the medical society. "Opponents incorrectly claim optometrists don't have the background to perform these basic procedures, and that patient safety will be jeopardized," she wrote. "That's simply not the case. Optometry students receive intensive hands-on clinical training during their four years of optometry school. We must pass a rigorous national board examination (written and hands-on) before receiving a license to practice in Arkansas."3
Sweeping the Nation
The move comes as part of a slew of changes to optometric scope of practice legislation across the nation. State governments and optometric advocates are working hand in hand to expand the profession this legislative session. The trend comes on the heels of advice from a joint report issued by the federal departments of Health and Human Services (HHS), Labor and Treasury. That report,
Reforming America's Healthcare System Through Choice and Competition
, advocates for reduced regulations on non-MD providers, including optometrists.
Other states looking to examine restrictions to optometry this legislative session include:
• Iowa. House Bill HF310 was first introduced on February 7th. It passed the House on February 26th and was read by the Senate the next day. If passed, the bill would give optometrists the capability to administer subconjunctival injections, intralesional injections (for treatment of chalazia), and injections of local anesthetics for the purposes of draining an abscess on the eyelid.4
• Maryland. The profession is heavily regulated in this state, but SB447—introduced February 4th—aims to repeal certain provisions that require ODs to refer some patients to ophthalmologists and alters the types of therapeutic pharmaceutical agents a ODs can administer or prescribe. This will expand the state's optometrists' ability to prescribe for glaucoma.5
• Massachusetts. This New England state stands alone as the only state remaining where optometrists cannot prescribe for glaucoma. Now, with the introduction of bill H.1923 (Docket: HD2185), the long-time holdouts may finally have glaucoma indications. A second relevant bill, H.1925 (Docket: HD2197), even looks to study the harm the state's intransigence has caused.6,7
• Minnesota. Optometry's first licensure law passed in Minnesota in 1901, but the state hasn't kept pace with scope expansion leaders Oklahoma and Kentucky. In fact, ODs in the state still face obstacles even administering legend drugs. A new bill there—HF891—proposes to remove these limitations.8 It was introduced to the state's Health and Human Services Policy committee February 7th.
• Nebraska. The Optometry Practice Act is looking to achieve some of the same advancements seen in Arkansas's bill, including removing the restriction on the use of lasers and the addition of the application of pharmaceutical agents consistent with optometric education with oversight by the state's optometry board.9
• New York. The Empire State's looking to expand its optometrists' capabilities by updating the way they can prescribe oral medications. S04035 relates to the use of oral medications by optometrists, while A06397 relates to providing education to certain professions regarding prescribing opioids.10,11
• Texas. If Texas's HB 3505 passes, the state's board will be permitted to regulate optometrists and determine its own scope of practice.12 It was introduced on March 18th.
• Nevada. Assembly Bill 77, introduced February 4th, offers various changes to the state's practice of optometry, including revising the requirements for certification to prescribe pharmaceuticals and treat glaucoma. It also eliminates a legal requirement to refer a patient to an ophthalmologist if the patient's glaucoma is caused by diabetes. It also proposes to permit assistants to aid in fitting contact lenses.13
• Alabama. SB114, which was first read on March 19th, seeks to add certain surgical procedures to optometry's repertoire, including some laser procedures, but excluding laser retinal surgery, penetrating keratoplasty, lamellar keratoplasty or radial kertotomy. The bill also prohibits ODs from performing corneal transplants or any surgery performed with general anesthesia, among several others. 14
1. Trackbill. An act to amend the definition of "practice of optometry"; to expand the types of ophthalmic surgery that may be performed by optometrists; to permit the prescription and administration of certain drugs through all routes of administration by optometrists; to modernize the practice of optometry; and for other purposes. trackbill.com/bill/arkansas-house-bill-1251-to-amend-the-definition-of-practice-of-optometry-and-to-modernize-the-practice-of-optometry/1651071/. Accessed March 21, 2019.
2. Arkansas Medical Society. HB 1251 passes out of committee: call your senator today. www.arkmed.org/news/2019/03/hb-1251-passes-out-of-committee-call-your-senator-today/. March 19, 2019. Accessed March 21, 2019.
3. Starkey B. Optometrist writes in favor of HB1251. Baxter Bulletin. www.baxterbulletin.com/story/news/local/communities/2019/03/17/optometrist-writes-favor-hb-1251/3175058002/. March 17, 2019. Accessed March 21, 2019.
4. Iowa Legislature. House file 310. www.legis.iowa.gov/legislation/BillBook?ga=88&ba=HF310. Accessed March 21, 2019.
5. Maryland Senate bill 447. legiscan.com/MD/bill/SB447/2019. Accessed March 21, 2019.
6. The 191st General Court of the Commonwealth of Massachusetts. Bill H.1923: an act modernizing optometric patient care. malegislature.gov/Bills/191/HD2185. Accessed March 21, 2019.
7. The 191st General Court of the Commonwealth of Massachusetts. Bill H.1925: an act studying the impacts of hte diagnosis restrictions on optometrists.malegislature.gov/Bills/191/H1925. Accessed March 21, 2019.
8. Minnesota Legislature Office of the Revisor of Statutes. HF 891.www.revisor.mn.gov/bills/bill.php?f=HF0891&y=2019&ssn=0&b=house#actions. Accessed March 21, 2019.
9. Nebraska 196th Legislature. Legislative bill 528. nebraskalegislature.gov/FloorDocs/106/PDF/Intro/LB528.pdf. Accessed March 21, 2019.
10. New York State Assembly. Bill no. S04035. nyassembly.gov/leg/?bn=S04035&term=2019. Accessed March 21, 2019.
11. New York State Assembly. Bill no. A06397. nyassembly.gov/leg/?bn=A06397&term=2019. Accessed March 21, 2019.
12. LegisScan. Texas House bill 3505: relating to the authority of the Texas Optometry Board. capitol.texas.gov/Search/DocViewer.aspx?ID=86RHB035051B&QueryText=%22optometry%22&DocType=B. Accessed March 21, 2019.
13. LegisScan. Nevada Assembly bill 77: makes various changes to provisions governing the practice of optometry. legiscan.com/NV/text/AB77/2019. Accessed March 21, 2019.
14. TrackBill. Alabama SB114. trackbill.com/bill/alabama-senate-bill-114-optometrists-practice-of-optometry-defined-secs-34-22-1-34-22-42-amd/1728523/. Accessed March 21, 2019.