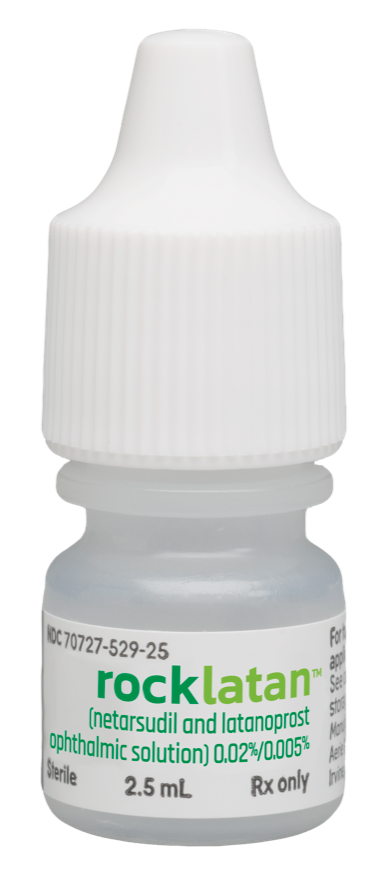 Less than a year after Aerie Pharmaceuticals brought a new drug class to the US glaucoma market in the form of Rhopressa, the company has received approval for a medication that combines Rhopressa's active ingredient—the rho-kinase inhibitor netarsudil—with glaucoma therapy mainstay latanoprost. The new product, called Rocklatan, is indicated for once-daily dosing in open-angle glaucoma patients and ocular hypertensives.
One key advantage, Aerie explained in a press release, is the complementary nature of the two agents. Netarsudil works by restoring aqueous outflow through the trabecular meshwork, while latanoprost increases outflow through the uveoscleral pathway.
In two Phase III studies, more than 60% of patients taking Rocklatan achieved IOP reduction of 30% or more, a frequency that was nearly twice that achieved by participants taking latanoprost alone, Aerie says. In addition, nearly twice as many patients taking Rocklatan reached IOP of 16mm Hg or lower and nearly three times as many reached 14mm Hg or lower compared to latanoprost.
The company says treatment was associated with generally mild and tolerable ocular adverse events, with minimal systemic side effects. The most common ocular adverse event in controlled clinical studies with Rocklatan was conjunctival hyperemia, which was described as 'mild' by 90% of patients who experienced it; 5% discontinued because of it. Other common ocular adverse effects reported in the studies include instillation site pain, corneal verticillata and conjunctival hemorrhage.
Aerie plans to launch Rocklatan in the second quarter of 2019, the company says.