Frontline Ocular Surface Disease Care
A contemporary approach to dry eye using early detection and proactive intervention to slow the cascade of disease
Sponsored by Shire.

By Lyndon Jones, PhD, FCOptom, FAAO; Paul M. Karpecki, OD, FAAO; Kelly Nichols, OD, MPH, PhD, FAAO; Leslie O'Dell, OD, FAAO
Release Date:
April 15, 2018
Expiration Date:
December 31, 2018
Goal Statement:
Upon completing this educational activity, optometrists should have increased knowledge about research from the recent DEWS II report that redefines DED and further illuminates its pathophysiology, and new strategies for diagnosing and managing the disease and its inflammatory response in order to provide patients with the highest level of care.
Faculty/Editorial Board:
Lyndon Jones, PhD, FCOptom, FAAO; Paul M. Karpecki, OD, FAAO; Kelly Nichols, OD, MPH, PhD, FAAO; Leslie O'Dell, OD, FAAO
Credit Statement:
This course is COPE approved for 2 hours of CE credit. COPE ID is 56785-AS. Please check your state licensing board to see if this approval counts toward your CE requirement for relicensure.
Joint-Sponsorship Statement:
This continuing education course is joint sponsored by the University of Alabama School of Optometry.
Disclosure Statements:
Dr. Jones is a consultant for Alcon, CooperVision and J&J Vision; and a principal investigator for Alcon, Allergan, CooperVision, GL Chemtech, J&J Vision, Nature's Way, Novartis, Santen and Shire Pharmaceuticals.
Dr. Nichols is a consultant for Bruder Healthcare Company, InSite Vision, Parion Pharmaceuticals, SARcode Bioscience, Shire Pharmaceuticals, Sun Pharmaceuticals, Kala Pharmaceutical, Eleven Biotherapeutics, Science Based Health, Allergan, Santen Pharmaceutical.
Dr. Karpecki is a consultant for Aerie Pharmaceuticals, Alcon, Abbott Medical Optics, Akorn, Allergan, Anthem Bausch + Lomb, Bio-Tissue, BlephEx, Beaver-Visitec, Bruder Healthcare, Cambium Pharma, Essilor, Eyes4Lives, Focus Labs, Glaukos, iCare USA, Imprimis Pharmaceuticals, J&J, Konan Medical, Maculogix, Oasis, Ocular Therapeutix, Oculus, OcuSoft, Regeneron, SightRisk, Reichert, Shire Pharmaceuticals, Science Based Health, Smart Vision Labs, TearScience, Topcon, TLC Vision, Vision Care Inc., Vmax and Visiometrics; a research grant principal investigator for Eleven BioTherapeutics, Fera Pharmaceuticals, Shire Pharmaceuticals; has received honoraria for the speaker's bureaus of Glaukos and Oculus; is director/clinical advisor for Optometric Medical Solutions; and is on the board of directors for TearLab.
Dr. O'Dell is a consultant to Eye Eco and Shire Pharmaceuticals; and a speaker for Allergan, Shire and Genyzme.
Supported by: An unrestricted educational grant from Shire.

---
Dry eye, as we understand it today, is entirely different than it was 20—or even 10— years ago. Of course, the disease itself has not changed, but our understanding of it has. As a result, we can now offer our patients comfort, relief, improved ocular health, better vision and a quality of life that we struggled in vain to attain just a few years ago.
Thanks to tremendous amounts of clinical research and the compilation of that research in the recently published Tear Film and Ocular Surface Society (TFOS) Dry Eye Workshop (DEWS) II reports, anyone practicing optometry can make this specialty as fundamental to primary care as a dilated fundus exam. As you'll discover in this continuing education program, you don't need expensive equipment to provide high-quality, comprehensive ocular surface care. New technology makes it easier in higher-volume settings and in clinics that want to build a strong dry eye specialty presence, but by no means is this necessary. However, a current understanding of dry eye is essential. This is what TFOS DEWS II offers.
The following discussion breaks down these extensive reports into an easy-to-follow, five-step process. As you will learn, a contemporary approach to dry eye involves early detection and proactive intervention to slow the cascade of disease. This is in stark contrast to the old approach, when we would watch-and-wait for identifiable signs of moderate to late-stage disease. Our current approach to more advanced cases is also very different today than it was a few years ago, because we now have a better understanding of effective strategies to quell disease and safeguard the ocular surface, lids and meibomian glands from further compromise. All of this is good news for patients and great news for the doctors on the frontlines who encounter this complex disease all day, every day.
Step One: Triage
Dr. Karpecki: TFOS DEWS II lays out a very structured and methodical way of getting to the bottom of dry eye disease.3 From a practical perspective, in most offices, this would begin when the patient first checks in at your office. The recommendation of the Diagnostic Committee is to begin with a set of triaging questions. Do you find this helpful in terms of practice flow and identifying dry eye?
Dr. O'Dell: I find it very helpful. The recommended triaging questions save a lot of time, error and oversight.
Dr. Karpecki: Which questions do you find most useful?
Dr. O'Dell: I find, "How long have your symptoms lasted and was there any triggering event?" the most beneficial. Most times, a dry eye patient has a gradual onset of symptoms. They can't say that everything went wrong on Sept 28th. But when you have a patient who can pick the exact day, you're onto something you may never have otherwise discovered. Sometimes, you'll find that patients you thought had dry eye in fact have recurrent corneal erosion or epithelial basement membrane dystrophy. The other big time-saver is, "Are the symptoms or any redness much worse in one eye than the other?" Having this information before you step into the exam room is incredibly valuable.




THE BIRTH OF A NEW DEFINITION FOR DRY EYE

The revised definition of dry eye that was created by TFOS in the TFOS DEWS II report states: "Dry eye is a multifactorial disease of the ocular surface characterized by a loss of homeostasis of the tear film, and accompanied by ocular symptoms, in which tear film instability and hyperosmolarity, ocular surface inflammation and damage, and neurosensory abnormalities play etiological roles."1
This definition is different from the original TFOS DEWS definition in meaningful ways.2 It was important to this subcommittee that the definition has international relevance. A lot of time was spent talking about individual words and how they would translate in different languages.
Next, important terms were identified. For example, it's important that dry eye is recognized as a disease because this suggests that there must also be diagnostic and management criteria, whereas a syndrome might be viewed as simply a nuisance. "Multifactorial" is another important term that puts dry eye into clearer perspective. However, the words the committee focused on most were "loss of homeostasis." This is new to the definition. It was included because we know that there are things about dry eye that we can't yet grasp, but the term "loss of homeostasis" is an umbrella term that accounts for these unknowns. As such, this new definition may not need to be changed for quite some time.
The new definition also recognizes that symptoms are important but don't need to be specifically defined, since they present in many different ways and affect comfort and/or vision to varying degrees.
Finally, the latter part of the definition reflects our current knowledge of the etiological pathways, but leaves an opening for what we might learn in the future.For example, neurosensory abnormalities were included in the new definition as a direct result of a preponderance of new research in that area.
STEP TWO: RISK FACTOR ANALYSIS
Dr. Karpecki: The second step, after triaging questions, is risk factor analysis. Risk factors for dry eye include the patient's environment, smoking, medications, contact lens wear, ocular surgery and systemic disease and others. Do any of these stand out as areas that require a change in approach?
Dr. Jones: Depending on what study you're reading, broadly speaking, roughly 50% of patients who wear contact lenses complain of dryness and discomfort toward the end of the day. The problem is that many practitioners are either numb to these complaints or try to solve the issue by spending an inordinate amount of time switching lens materials and solutions and flip-flopping between different ones. What we're overlooking when we do this is that you can have the best contact lens material and the best contact lens solution in the world, but these strategies aren't going to work well if you've got a patient whose ocular surface is damaged. We need to address the ocular surface before we start making other changes in contact lens wearers. Looking for meibomian gland dysfunction and Demodex is a great place to start in any symptomatic contact lens wearer. Always look for those two things before changing anything else. Then, if you still need to change the lens, the previous TFOS report on contact lens discomfort offers adequate evidence to support switching to a daily disposable modality.4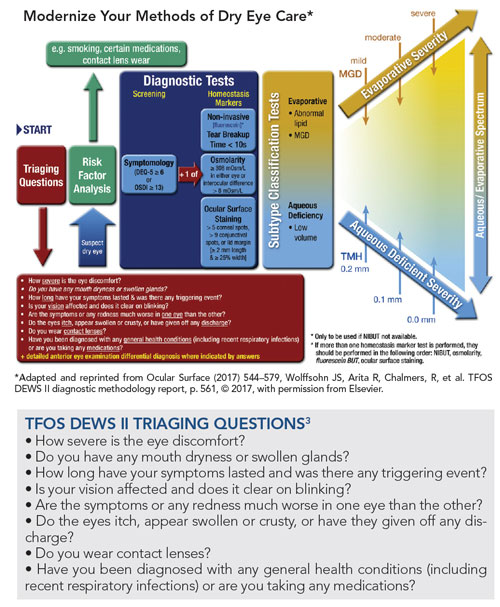 Click image to enlarge.
Dr. Karpecki: Moving on to medications, what role do glaucoma drops play in terms of being a risk factor for dry eye disease?
Dr. O'Dell: Topical glaucoma therapy creates ocular surface disease, so we need to screen these patients, whether or not they're complaining about their drops burning or end-of-the-day discomfort. Many patients require multiple medications to control their disease, which increases their dry eye symptoms exponentially. Fortunately, we are starting to see a paradigm shift in the way we manage glaucoma, with the introduction of alternative preservatives, preservative-free options and first-line surgical options including selective laser trabeculoplasty (SLT) and minimally invasive glaucoma surgery (MIGS).

Dr. Karpecki: Are you seeing dry eye at an earlier age?
Dr. O'Dell: Absolutely. Future research needs to take a closer look at what's happening in the under-40 crowd. Everyone is staring at screens, including young children. Consider the effects of this over time.
Dr. Karpecki: Indeed, we're starting to see those effects even now. We're all familiar with the original Beaver Dam research, but when researchers looked at the participants' offspring in the Beaver Dam Offspring Study (BOSS), they discovered that the incidence of dry eye in the patients between age 21 and 34 was about 13%, which is about the same incidence as their parents.5 That's a pretty high number. Does it strike you as unrealistic?
Dr. Jones: It doesn't surprise me at all. In our clinics at the University, the number of patients who report symptoms has definitely increased because of this digital world—even when patients are not wearing their lenses. Digital device use reduces blink rate, which increases evaporation, which in turn is leading to an increase in symptoms. The take-home message here is that you need to routinely ask patients of all ages whether they are suffering from symptoms of dry eye. This includes the whole under-40 crowd, including , including kids.
Dr. Nichols: It's also important to look at the young people in your practice and think about prevention, because if they're showing signsin their 20s, imagine what they're going to be living with when they are 50, 60 or 70 years old. We need to try and halt progression and prevent dry eye from emerging in the first place.
Dr. Jones: Many kids also are at much greater risk due to acne medications, such as isotretinoin derivatives. This is commonly prescribed and can cause brutal dry eyes, dry mouth and dry skin.
Dr. O'Dell: Acne medications aren't the only culprits. Some of the acne face washes have been linked to keratitis. There's still a lot to learn about the chemicals in cosmetics including soaps, shampoos, lotions and face wash. Our patients are being exposed to these products every day without knowing the residual effects to the ocular surface.

Dr. Karpecki: Why specifically are we still seeing a predilection after age 35 towards women?
Dr. O'Dell: I learned so much from the TFOS DEWS II Sex, Gender, and Hormones Committee.6 First, to clarify terms, "sex" refers to your biological makeup, and "gender" relates to what the environment does to influence your behavior. In both male and female patients, the level of hormones and androgens in every part of the lacrimal system—from meibomian glands to the lacrimal gland to the accessory glands—is unique based on sex. In post-menopausal patients especially, androgens play an enormous role.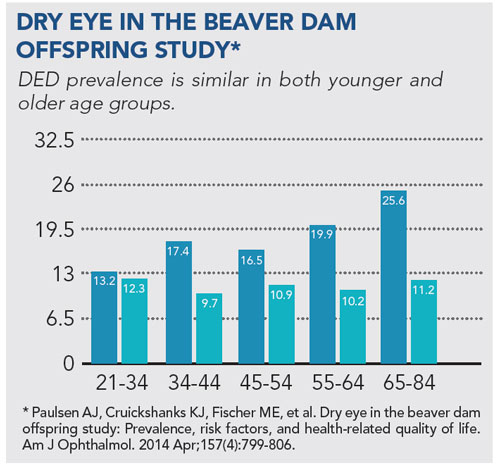 Click image to enlarge.
Step Three: Diagnostic Tests
Dr. Karpecki: Step three is diagnostic testing, which includes a symptomology screening questionnaire plus at least one of three diagnostic tests to measure homeostasis. Do you rely heavily on a particular dry eye questionnaire?
Dr. Nichols:
We tend to use the Ocular Surface Disease Index (OSDI) because it provides a great benchmark, and has excellent reliability and validity, and good sensitivity and specificity.
7
If you choose to ask more questions yourself, you don't need a survey, but if you are pressed for time, as most doctors are, the detailed surveys allow you to see other patients while you collect critical information.
Dr. Jones:
Asking about symptomology using a questionnaire is very helpful for diagnosis. It's also great for management because it gives you a benchmark, so when you do begin therapy you can reliably measure any shift that occurs.
Dr. Nichols:
And these two are selected because they've been validated or have shown a shift with treatments. And so, you're right. If you don't see any change at all, maybe you need to approach your management structure a bit differently.
Dr. Karpecki:
That's an excellent point. Like OSDI, the Dry Eye Questionnaire-5 (DEQ-5) and the SPEED questionnaire also offer a score, which helps in diagnosis and later in terms of management so you know whether or not your treatment plan is working.
8

Dr. Karpecki:
The list of dry eye symptoms is long. It includes burning, stinging, transient blur, dryness, photophobia, epiphora, blurred vision, contact lens intolerance, injection, increased blink rate, foreign body sensation and grittiness. Among these, is there any area that you're starting to look more closely at in recent years?
Dr. O'Dell:
I'm taking a more serious look at increased blink rate because it leads to a vicious cycle of inflammation that's hard to break, even with today's topical therapies. In some cases, we've had to use botulinum toxin injections to slow the blinking. But even this is tricky because if you slow it too much you can cause even more dry eye. I often first notice blink rate issues at the slit lamp when patients appear to be overly photophobic during the exam.
Dr. Nichols:
I agree. I also elicit information on blink problems by asking patients whether they stop and close their eyes during a work day or at the end of the day. Many patients—especially contact lens wearers—say their eyes are tired and they need to blink a lot to try and clear the vision. The visual parts of the symptomatology are central to how I gather meaningful information about dry eye. These patients generally think there's something wrong with their prescription when, in fact, it has more to do with blinking too much. The body is trying to maintain adequate tear breakup on an unstable tear film.
Dr. Karpecki:
After screening, the three tests identified in the TFOS DEWS II report for measuring homeostasis are non-invasive tear breakup time, osmolarity or ocular surface staining testing. Which of these do you perform?
Dr. Nichols:
The guidelines point out that you only need to perform one of these, but we often do all of them.

Step Four: Subtype Classification

Dr. Karpecki: After your screening and symptomatology review, the TFOS DEWS II guidelines call for subtype classification testing. In other words, is the dry eye primarily evaporative or is it mostly aqueous eficient? It's often mixed, but the new guidelines suggest looking at that scale and determining the severity of each subtype to figure out where the patient is on the dry eye spectrum. What is the benefit of going through this classification exercise? Does it offer a better explanation about why signs and symptoms don't always correlate?
Dr. Nichols:
This is where I think we stopped short in previous definitions. DEWS II offers a new classification scheme that makes it clear that dry eye isn't either aqueous deficient or evaporative. It is often a combination of both, occurring on a sliding scale, which makes it necessary to treat both.

Dr. Karpecki: What is your testing protocol?
Dr. Nichols:
You have to look at the meibomian glands and tear volume. There are many high- and low-tech ways to test for evaporative vs. aqueous deficient dry eye. Taking a thorough look and taking your findings seriously are what matters. For example, if you see only one isolated blocked gland in a contact lens patient, don't ignore it. Treat it because this patient is on a road to a place they don't want to go. They already have disease.
Dr. Jones:
It is worthwhile reading the entire TFOS DEWS II report, but if you had to read just one part, it would be the diagnostic report. It dissects every single dry eye test that could or should be done in succinct detail. When you see it put together like this, you realize that this isn't rocket science. Every single one of us can do this using readily accessible tools.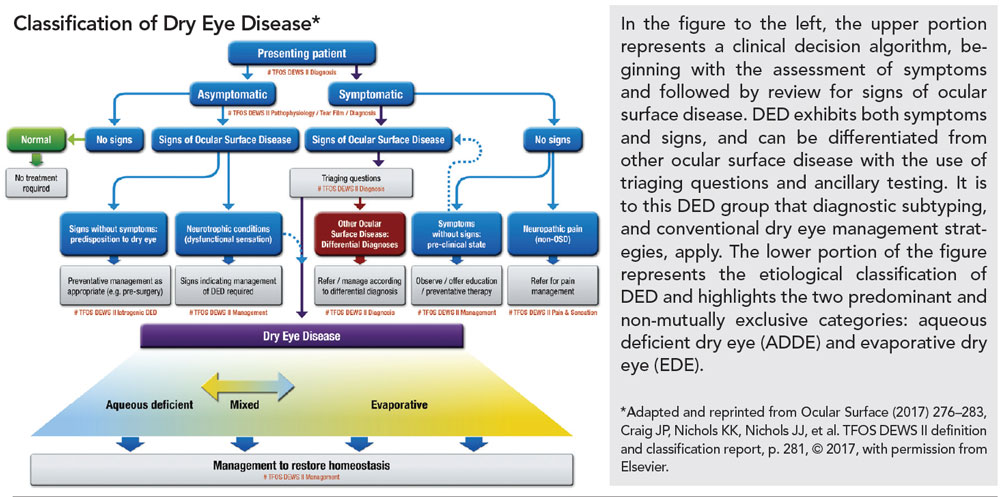 Click image to enlarge.
Step Five: Treatment

Dr. Karpecki: Once you know what you're trying to combat, treatment becomes much more straightforward. But have we reached the point where we can pick a single treatment based on our diagnostics and know it's going to be the silver bullet?
Dr. Jones:
One of the biggest challenges for the Management and Therapy Committee was grouping the incredibly diverse list of therapies and suggesting when to use them. To give you an idea of how much research there is on this topic, the Management and Therapy Committee report has 1,002 references.
9
What we found was that one treatment alone often doesn't work. Instead, you may need to mix and match a few things. To simplify this process, the committee developed a four-step process, progressing from the simplest therapies to the more complex. (See TFOS DEWS II Staged Management and Treatment Recommendations).
Dr. Nichols:
Indeed, the Management and Therapy section is not the cookbook that we may wish it could be, but it provides a level of evidence that puts us on the right path. One outcome that we hope for most as a result of this report is that it will be a call to action, inspiring more head-to-head studies that will help us select those silver bullets.
Dr. Karpecki:
In the meantime, one thing we do know about dry eye is that inflammation needs to be addressed at every level.
Dr. Jones:
That's very true. By definition, dry eye has an inflammatory component. It's worthwhile bearing in mind that many of our mildly symptomatic patients have low levels of inflammatory response that now we can effectively manage at this earlier stage, getting them out of the vicious cycle of the inflammatory response that precipitates further damage to the ocular surface, more tear film break-up time and more inflammation. You've got to get in there and break that cycle.
TFOS DEWS II STAGED MANAGEMENT & TREATMENT RECOMMENDATIONS

Step 1:
• Education regarding the condition, its management, treatment and prognosis
• Modification of local environment
• Education regarding potential dietary modifications (including oral essential fatty acid supplementation)
• Identification and potential modification/elimination of offending systemic and topical medications
• Ocular lubricants of various types (if MGD is present, consider lipid-containing supplements)
• Lid hygiene and warm compresses of various types

Step 2:
If above options are inadequate, consider:
• Non-preserved ocular lubricants to minimize preservative-induced toxicity
• Tea tree oil for Demodex (if present)
• Tear conservation
• Punctal occlusion
• Moisture chamber spectacles/goggles
• Overnight treatments (such as ointment or moisture chamber devices)
• In-office, physical heating and expression of the meibomian glands (including device-assisted therapies, such as LipiFlow [TearScience])
• In-office intense pulsed-light therapy for MGD
• Prescription drugs to manage DED
• Topical antibiotic or antibiotic/steroid combination applied to the lid margins for anterior blepharitis (if present)
• Topical corticosteroid (limited duration)
• Topical secretagogues
• Topical non-glucocorticoid immunomodulatory drugs (such as cyclosporine)
• Topical LFA-1 antagonist drugs (such as lifitegrast)
• Oral macrolide or tetracycline antibiotics

Step 3:
If above options are inadequate, consider:
• Oral secretagogues
• Autologous/allogeneic serum eye drops
• Therapeutic contact lens options
• Soft bandage lenses
• Rigid scleral lenses

Step 4:
If above options are inadequate, consider:
• Topical corticosteroid for longer duration
• Amniotic membrane grafts
• Surgical punctal occlusion
• Other surgical approaches (e.g., tarsorrhaphy, salivary gland transplantation)



Adapted and reprinted from Ocular Surface (2017) 580–634, Jones L, Downie LE, Korb D, et al. TFOS DEWS II management and therapy report, p. 615, © 2017, with permission from Elsevier.
Act Sooner Rather Than Later

Dr. Karpecki: A recent study looked at patients preparing for cataract surgery. The patients who had osmolarity scores within normal limits were within a half diopter of intent, whereas 17% of those with hyperosmolarity would have missed their IOL calculation by more than a diopter.10 What is your protocol for cataract surgery candidates?
Dr. Jones: You should always aim to have a primed, pristine optical surface before referring a patient for cataract surgery. Especially if you have a patient who demonstrates an interest in a multifocal or other premium IOL, you have to make sure that the ocular surface is healthy. It makes a big difference.
Dr. O'Dell: If I have a patient that I'm sending out for cataract surgery, I always have them come back for a dry eye evaluation with me before they go to the cataract surgeon so I can start therapy several weeks before it's time for surgery.
Dr. Karpecki: Dry eye disease is a chronic, progressive disease that affects millions of people, yet too often it is approached as a mere nuisance, as evidenced by the fact that so few people are receiving medical treatment.5,11 It's encouraging that there appears to be a growing commitment to action, at least before surgery.
Dr. Nichols: That's true, but the next step needs to be acting sooner rather than later. Our changing environment and increased dependence on digital technology only adds to this growing problem, making intervention and prevention that much more critical to sustained quality of life as patients age.
1. Craig JP, Nichols KK, Akpek EK, et al. TFOS DEWS II Definition and Classification Report. Ocul Surf. 2017 Jul;15(3):276-83.
2. The definition and classification of dry eye disease: Report of the definition and classification subcommittee of the international dry eye workshop (2007). Ocul Surf. 2007;5(2):75-92.
3. Wolffsohn JS, Arita R, Chalmers R, et al. TFOS DEWS II Diagnostic Methodology report. Ocul Surf. 2017 Jul;15(3):539-74.
4. Jones L, Brennan NA, Gonzalez-Meijome J, et al: The TFOS International Workshop on Contact Lens Discomfort: report of the contact lens materials, design, and care subcommittee. Invest Ophthalmol Vis Sci 2013; 54: TFOS37-70.
5. Paulsen AJ, Cruickshanks KJ, Fischer ME, et al. Dry eye in the beaver dam offspring study: Prevalence, risk factors, and health-related quality of life. Am J Ophthalmol. 2014 Apr;157(4):799-806.
6. Sullivan DA, Rocha EM, Aragona P, et al. TFOS DEWS II Sex, Gender, and Hormones Report. Ocul Surf. 2017 Jul;15(3):284-333.
7. Schiffman RM, Jacobsen CG, Hirsch J, et al. Relability and validity of ocular surface disease index. Arch Ophthalmol. 2000 May;118(5):615-21.
8. Chalmers RL, Begley CG, Caffery B. Validation of the 5-item dry eye questionnaire (DEQ-5): Discrimination across self-assessed severity and aqueous tear deficient dry eye diagnoses. Cont Lens Anterior Eye. 2010 Apr;33(2):55-60.
9. Jones L, Downie LE, Korb D, et al. TFOS DEWS II Management and Therapy Report. Ocul Surf. 2017 Jul;15(3):575-628.
10. Epitropoulos AT, Matossian C, Berdy GJ, et al. Effect of tear osmolarity on repeatability of keratometry for cataract surgery planning. Journal Cataract Refract Surg. 2015 Aug;41(8):1672-7.
11. Gayton JL. Etiology, prevalence, and treatment of dry eye disease. Clin Ophthalmol. 2009;3:405-12. 1.