1
It is a true ocular emergency due to its predilection for the branches of the carotid artery. If left untreated, a patient is at significant risk for sudden and permanent vision loss. GCA is most commonly seen between the ages of 60 and 75 and, rarely, younger than 50.
1
The disorder also presents more often in women and in Caucasians.
1
Presentation
Patients with GCA frequently present initially with a variety of signs and symptoms. It is crucial for clinicians to identify the disorder before ocular signs are noted, considering sudden, painless loss of vision occurs in 15% to 20% of patients with GCA.
1
Patients typically have symptoms of temporal head pain, jaw claudication, scalp tenderness and new-onset headaches. Other symptoms that may occur include fatigue, malaise and fever.
If GCA is suspected, clinicians should order testing, such as erythrocyte sedimentation rate, C-reactive protein and platelet count. If any of these three tests are elevated in a symptomatic patient, eye care providers should refer the patient for a temporal artery biopsy. If vision loss is present at examination, a consideration of intravenous methylprednisolone followed by oral corticosteroids should be started prior to biopsy to prevent further vision loss.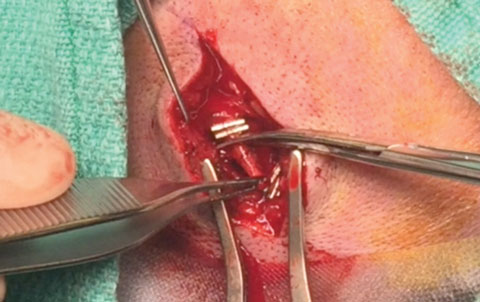 Surgical clips isolate the specimen before excision.
Biopsy: Step-By-Step
Temporal artery biopsy is currently the gold standard for diagnosing cases of GCA. The procedure is typically performed under monitored sedation with the patient conscious.

After shaving the temple and sideburn area, the surgeon locates the course of the superficial frontal branch of the temporal artery with meticulous palpation and marks it.

The patient is given local anesthetic around the shoulders of the vessel, and the area is prepped.

After the site is tested to ensure the anesthesia has taken effect, using a #15 blade the surgeon makes a shallow incision through the skin and subcutaneous tissue directly over the temporal artery. Blunt dissection reveals the artery, and cautery is applied for hemostasis.

The artery is compressed and, if no ischemia is noted, surgical clips are placed at the proximal and distal ends of the blood vessel.2 The specimen is excised and sent for analysis.
The subcuticular tissue is closed with dissolvable 4-0 chromic suture, and the overlying skin incision is closed with cyanoacrylate tissue adhesive and surgical tape strips.3
Postoperative

Patients typically heal within two to three weeks with few complications, although minor swelling, bruising and irritation can occur. Pathology results typically return within a week, which is appropriate for follow-up. ODs should consult with the patient's primary care provider or rheumatologist to consider long-term management of any underlying systemic condition.

If the results are negative, no additional treatment is indicated. A positive biopsy confirms GCA, prompting treatment with systemic steroids, which are maintained until symptoms resolve and inflammation is under control. Typical treatment lasts six to 12 months, followed by a slow taper. Patients with GCA should be followed every three to six months to monitor ocular health.

Dr. Skorin is a consultant for the Department of Surgery, Community Division of Ophthalmology at the Mayo Clinic Health System in Albert Lea, MN.

Mr. Lundgren is a fourth-year optometry student at Pacific University College of Optometry.

1. Skorin L, Nash P. Preventing permanent vision loss: diagnosis and treatment of temporal arteritis. Consultant. 2015;55(9):702-6.
2. Skorin L, Majewicz M. An innovative approach to temporal artery biopsy surgery. Clin Surg Ophthalmol. 2011;29(1):26-7.
3. Skorin L, Kassel J. The use of Dermabond in temporal artery biopsy surgery. Clin Surg Ophthalmol. 2008;26(9):320-1.1.

Temporal arteritis, also known as giant cell arteritis (GCA), is a chronic autoimmune inflammatory disease that affects the major branches of the aortic arch.