Acanthamoeba keratitis (AK) cases have tripled in Southeast England since 2011, according to a team of researchers who attribute the rise to ineffective contact lens solution, poor contact lens hygiene and water contamination.
The researchers collected data from Moorfields Eye Hospital from 1985 to 2016. From 2000 to 2003, researchers found eight to 10 cases of AK per year compared to 36 to 65 annual cases over the past few years.
The investigators also performed a case-control study of 276 individuals who wore reusable contact lenses on a daily basis from 2011 to 2014, including 63 patients with Acanthamoeba keratitis. Based on the results of a questionnaire, researchers found the risk of developing AK was more than three times greater among people with poor contact lens hygiene; in those who did not always wash and dry their hands before handling their lenses; in individuals who used a lens disinfectant product containing Oxipol (now phased out by the manufacturer); and those who wore their contacts in swimming pools or hot tubs. The researchers found additional risk factors were showering and face washing while wearing contact lenses.
"Publicity will be very helpful to get information about safe contact lens wear to lens users and increased transparency regarding risks from the contact lens and solution manufacturers. Research suggests that AK is preventable in 90% of cases if water exposure is avoided and either daily disposable contact lenses OR effective lens solutions are both used properly," says the study's lead author, John Dart, professor at the UCL Institute of Ophthalmology and Moorfields Eye Hospital NHS Foundation Trust. "Patients must be made aware of these facts."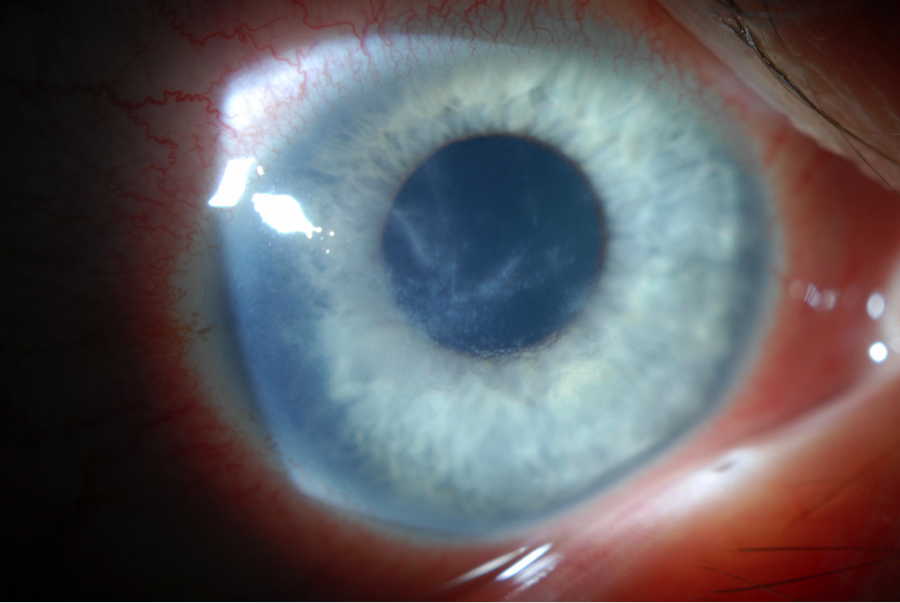 Pseudodendritiform appearance in Acanthamoeba keratitis. Photo: Natalie C. Cheung, MD, and Kristin M. Hammersmith, MD.

However, the contact lens and solution manufacturers do not make risk information readily available, he adds. "Instead of risk avoidance on the packaging or enclosed leaflets with the products, users are usually directed to websites or their practitioners to obtain this, which they rarely seem to do. The information that is available is poor, not easily accessed and does not always mention many risks. It is also very hard to for me (or anyone) to recommend a safe contact lens solution because it is so difficult to establish the principal disinfection agent and excipients, even from the websites. It is not possible to recommend a solution that has not been in use for many years because it is only after several years that problems may be apparent."
Additionally, establishing what has changed in lens solutions, even when the name is the same, is impossible for every solution, he says. "I do not understand why manufacturers cannot be more transparent, especially when I doubt that transparency would lose them any sales. Contact lenses are medical device, and I think that this situation is unacceptable given that there have now been four outbreaks of Acanthamoeba or fungal infections in contact lens users, related wholly or in part to defective lens solutions, over and above the risks associated with water exposure and poor use of the solutions."
Acanthamoeba infection is still relatively rare, usually affecting 2.5 in 100,000 contact lens users per year in Southeast England, but it's largely preventable, the study reported.
Carnt N, Hoffman JJ, Verma S, et al. Acanthamoeba keratitis: confirmation of the UK outbreak and a prospective case-control study identifying contributing risk factors. Br J Ophthalmol. September 19, 2018. [Epub ahead of print].