Patients with a chalazion are often frustrated by the unsightly eyelid bump that may linger for weeks or months. If warm compresses aren't doing the trick, clinicians should look for concurrent pyogenic granulomas, as they shift the treatment from simple compresses to surgery. This provides patients the results they are looking for with less chance of recurrence.
The First Problem
Chalazia are sterile lesions caused by chronic lipogranulomatous inflammation of the meibomian glands and are associated with rosacea or meibomitis.1,2 Histopathological study shows multinucleated giant cells, lymphocytes, extracellular fat deposits and lipid-laden epithelioid cells.2 These lesions may get larger over time, and patients usually have no pain but may have irritation due to the size or location of the lesion.
Because at least one third of chalazia resolve spontaneously, initial observation is advised.2 When treatment is indicated, hot compresses several times daily is the most common approach. Expression can be effective for fresh lesions near the lid margin.2 Lesions located near structures such as the puncta may warrant triamcinolone acetonide injection into and around the lesion. Unfortunately, intralesional corticosteroid injection has a lower resolution rate than surgery.3 If a concurrent pyogenic granuloma exists, surgery is indicated.4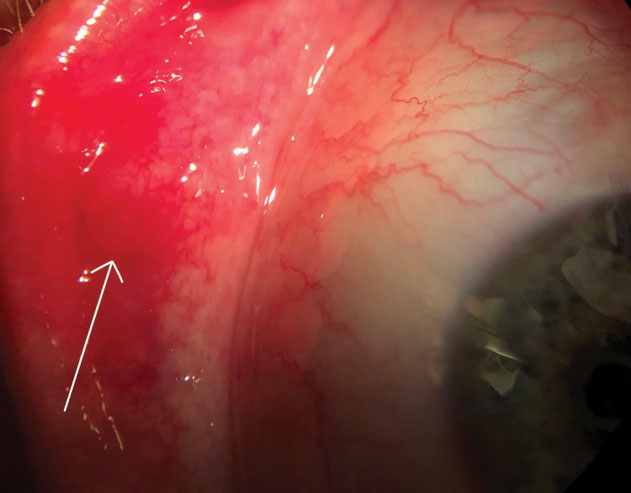 Palpebral view of a chalazion near the lid margin and pyogenic granuloma (arrow).
The Second Problem
The term pyogenic granuloma is a misnomer; it's neither pyogenic nor granulomatous. It's a vascularized lesion, often pedunculated and red in color, with inflammatory cells and lobular capillary proliferation.5 Pyogenic granulomas usually occur in locations previously affected by surgery, trauma or infection.2
Usually, intervention is required for pyogenic granulomas, as spontaneous resolution is rare. Topical corticosteroids may have some success, but most require surgical excision for complete resolution.2,5
Two Bumps, One Surgery
Prior to excision, the eyelid is anesthetized with 2.0% lidocaine and 1:100,000 epinephrine. This also induces vasoconstriction, which reduces bleeding during and after the procedure. The surgeon passes a traction suture through the eyelid adjacent to the lesion to more easily evert the eyelid and then places and tightens a chalazion clamp into position. Using a trephine, the surgeon opens the chalazion and loosens and removes granulomatous tissue from the chalazion with a curette. The surgeon then uses scissors to widen the tunnel between the pyogenic granuloma and the chalazion and excise the pyogenic granuloma. After removing the clamp, pressure is applied to achieve hemostasis.
Post-op Considerations
After the procedure, patients will be instructed to apply an antibiotic ointment to the incision site three times per day for five days. The patient should return to the clinic if they notice any signs of infection such as discharge, swelling, redness, fever or changes in vision. If desired, a follow-up appointment can be set at the discretion of the optometrist one week post-excision.
Ms. Asheim is a fourth-year student at Pacific University College of Optometry.
Dr. Skorin is a consultant in the Department of Surgery, Community Division of Ophthalmology in the Mayo Clinic Health System in Albert Lea, MN.
1. Kaiser PK, Friedman NJ. Eyelid Inflammations. In: Massachusetts Eye and Ear Infirmary Illustrated Manual of Ophthalmology. 4th ed. Philadelphia: Elsevier; 2014:77-83.
2. Bowling B, Kanski JJ. Eyelids. In: Kanski's Clinical Ophthalmology. 8th ed. Philadelphia: Elsevier; 2016:2-62.
3. Aycinena AR, Achiron A, Paul M, Burgansky-Eliash Z. Incision and curettage versus steroid injection for the treatment of chalazia: A meta-analysis. Opthalmic Plastic Reconstructive Surg. 2016;32:220-4.
4. Bagheri N, Wajda B. Chalazion/Hordeolum. In: The Wills Eye Manual: Office and Emergency Room Diagnosis and Treatment of Eye Disease. 7th ed. Philadelphia: Wolters Kluwer; 2017:132-3.
5. Tan IJ, Turner AW. Pyogenic granuloma of the conjunctiva. New Engl J Med. 2017;376:1667.