Q:
I have a patient with a history of a scleral buckle procedure in 2004. I haven't seen one in a while and was wondering if they are still done.
A:

"The short answer is 'yes'," explains Tanuj Banker, MD, a Bascom Palmer-trained retina surgeon who now works at the Center for Sight in Florida.
First described for the repair of a rhegmatogenous retinal detachment (RRD) more than 60 years ago, the principles of scleral buckling (SB) are: (1) physically support a retinal break by creating an indentation by the buckle and (2) use cryotherapy or laser photocoagulation to create an adhesion between the neurosensory retina and the retinal pigment epithelium, closing off the retinal break. The SB remains in place permanently, helping to mitigate forces such as vitreous traction or proliferative vitreoretinopathy (PVR) that can create a recurrent retinal detachment.
The use of SB for RRD repair has declined steadily over the past 30 years due to increased use of pars plana vitrectomy (PPV), Dr. Banker says, due to improved PPV technology, economic factors and surgeons' preferences. Unfortunately, many vitreoretinal surgical fellowship programs no longer teach scleral buckle placement. Firm believers in the efficacy of the technique at Bascom Palmer begin teaching fellows how to properly place an SB "on the first day of fellowship."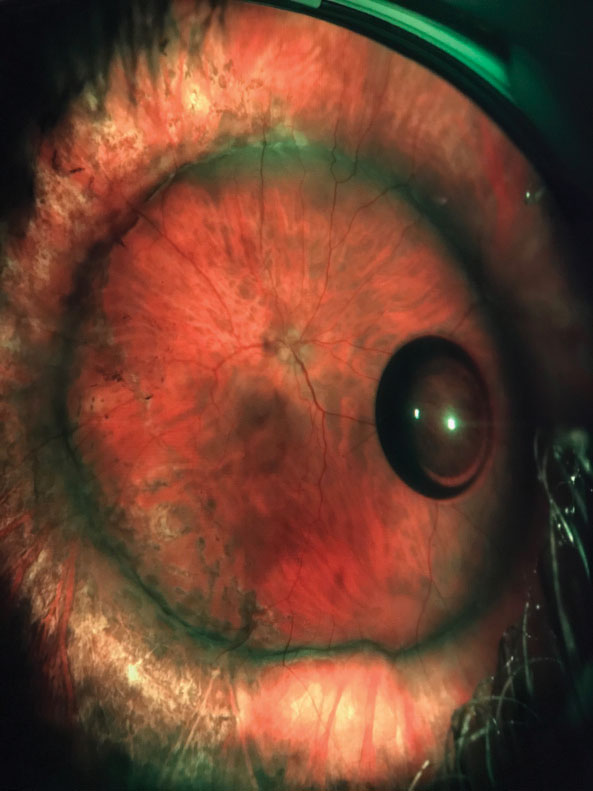 Combined scleral buckle and pars plana vitrectomy improved vision in this patient with a total retinal detachment.
Best Case Scenarios
Scleral buckle placement can be either primary, in which the buckle alone is used to treat the retinal detachment, or combined with vitrectomy. Dr. Banker says that SB placement is optimal in these scenarios:
1. A young phakic patient with a traumatic RRD. A primary SB would avoid the need for a PPV, thus preventing cataract formation. As PPV removes the vitreous, significant cataract formation would occur in 90% of patients within two years.
2. A patient with high myopia (-10D), extensive lattice and numerous retinal breaks with a total RRD. In this case, the SB would support the vitreous base entirely, preventing future tears and reinforcing areas of lattice. Additionally, there are often multiple microscopic breaks in high myopia that the buckle would also support.
3. A chronic inferior RRD with extensive proliferative vitreoretinopathy. In this scenario, a combination vitrectomy/scleral buckle would provide the best outcome. The PPV would allow a surgeon to flatten the retina, remove the PVR and use a gas or oil tamponade. The buckle would provide long-term support to the inferior breaks and help counter any tractional forces created by residual PVR or new PVR formation.
4. A recurrent RRD after a primary vitrectomy. Here, the patient had PPV with gas placement as the first surgery to repair the RRD. However, in the postoperative period after the gas has evaporated, the patient developed a recurrent RRD due to vitreous traction on the break or PVR formation. Scleral buckle would provide physical, long-term reinforcement to the break. This is especially important in cases of retinal dialysis or anterior breaks, both of which are difficult to treat with vitrectomy alone due to location.
Despite these virtues, complications such as diplopia, buckle extrusions and postoperative discomfort remain associated with SB. Fortunately, these are rare and can be avoided with proper surgical technique, according to Dr. Banker.
Repairing a complex retinal detachment is similar to going into battle. The more techniques and tools a surgeon has in their armamentarium, the better. "Old is gold; when placed properly in the correct scenarios, a scleral buckle is priceless," Dr. Banker says.