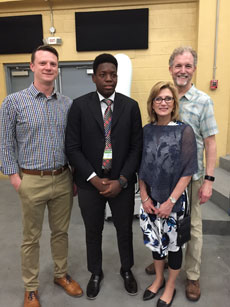 Drs. Susan and Thomas Quinn and Dr. Shane Foster, of Vision Source, with Kendy Jean Charles, president of the first Optometry Students in Haiti.
The trend of new optometric educational institution launches, which added six schools to the US capacity in the last decade, now extends internationally. This week, the Republic of Haiti opened its first such facility, the newly minted School of Optometry & Vision Sciences at the Faculty of Medicine and Pharmacy of I'Université d'État d'Haïti in its capital city Port-au-Prince. The school's five-year program aims to graduate 16 optometrists a year.
Until now, the island, which hosts a population of approximately 10 million individuals, has been home to just three optometrists. However, the small nation has the highest level of blindness and visual impairment in its region, according to a press release about the launch. In fact, the Haitian National Committee for the Prevention of Blindness (CNPC) estimates the prevalence of blindness at 1% while other regional data estimates moderate and severe visual impairment at 5% and 22%, respectively. 1
"With virtually no optometrists, there has been limited opportunity for the Haitians to obtain quality vision care," said Jeff Duncan, the executive vice president and chief operating officer for Vision Source, a major donor and partner to the project.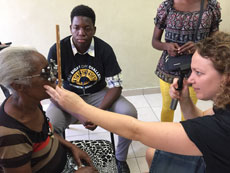 Dr. Christine Bowman and Dr. Shane Foster with Vision Source participate in community outreach clinic in Port-au-Prince.
Haiti, a nation located on the Caribbean island of Hispaniola, approximately 400 miles southeast of Cuba, has suffered a series of recent natural disasters. In particular, a devastating earthquake in 2010 cost hundreds of thousands of lives.
The effort to open this optometry school goes back five years, according to Christina Sanko, the senior director of development at Optometry Giving Sight.
The school was founded with the aid of Vision Source and Optometry Giving Sight, a joint venture of the Brien Holden Vision Institute Foundation, International Agency for the Prevention of Blindness and the World Council of Optometry, which was created to mobilize resources from the global optometric community in an effort to eliminate refractive error blindness and low vision across the world.2

1. Tousignant B, Brûlé J. Prevalence of eye disease and visual impairment in Île de la Gonave, Haïti. Med Sante Trop. 2017 Aug 1;27(3):326-8.
2. Optometry Giving Sight. Welcome. www.givingsight.org/about2/welcome.html Accessed April 12, 2018.