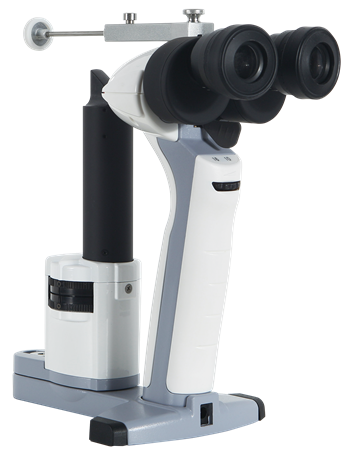 If you want the flexibility to perform biomicroscopy in a number of different places and seating positions, the new SK-LS-1B from Coburn Technologies could be worth a look. The company says the lightweight portable device allows doctors to examine patients who can't sit comfortably at a traditional slit lamp.
Key features, according to the manufacturer, include:
• One-handed operation: A button allowing one-touch magnification makes it easier to perform detailed inspection.
• Increased slit angle: A maximum illumination angle of 60° helps you get a better slit view of the cornea.
• Long-term battery operation: The SK-LS-1B operates for more than four hours after being fully charged.
• Stronger LED illumination: The 3,500K color temperature improves viewing and helps relieve visual fatigue.
• iPhone connectivity: The device can connect using an optional attachment to capture images through the slit lamp.
The FDA-approved device is available now. For additional information, visit www.coburntechnologies.com.