Q:

I have a patient with a subretinal neovascular membrane with a bleed. However, the other eye shows no signs of macular degeneration. What else should I consider?
A:
A 73-year-old male presented to Nash Ditmetaroj, OD, of Kaiser Permanente in Atlanta, with a "spot" in his central vision OS, which had persisted for two weeks. Its onset was sudden and had not really changed since it first appeared. His right eye was unaffected.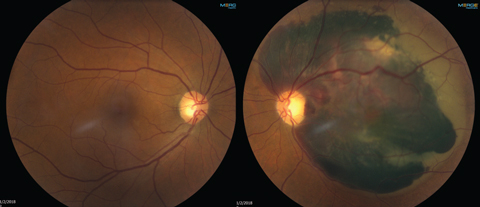 The patient's left eye (at right) shows subretinal hemorrhaging, but the right eye shows no signs of macular degeneration.
Click image to enlarge.
History included hypertension (HTN), with well-controlled blood pressure. At the time of exam, blood pressure was 124/70, which he stated was typical for him. His meds included Coumadin (warfarin, Bristol-Myers Squibb) 5mg daily, losartan 50mg BID for HTN and low-dose aspirin (81mg) QID. Vision was 20/25-2 best corrected OD and hand motion OS with no improvement with refraction.
Dilation revealed a normal anterior segment aside from some early nuclear sclerosis OU. The right fundus was normal. The left eye had a significant subretinal hemorrhage extending throughout the posterior pole with a slightly irregular, elevated area just temporal to the optic nerve.
"My initial consideration was age-related macular degeneration (AMD) due to the location of the hemorrhage," says Dr. Ditmetaroj. "AMD made sense given the patient's age, but the unilateral presentation didn't. I was looking for other entities in my differential diagnosis."
Another consideration was a choroidal melanoma with choroidal neovascularization (CNV). Although rare, these cases can cause subretinal fluid or hemorrhaging, says Dr. Dimetaroj. "Typically, melanomas will present with elevated lesions, and that was not seen in my patient."
The Diagnosis
Despite the many considerations, closer evaluation led Dr. Ditmetaroj to diagnose polypoidal choroidal vasculopathy (PCV) due to polyp-shaped irregularities just temporal to the optic nerve. "The extensive hemorrhaging and significant elevation is more common in PCV than in AMD," says Dr. Ditmetaroj.
PCV is a disease of the choroidal vessels that can result in vascularized retinal pigment epithelium detachments (PEDs), CNV and subretinal fibrosis, says Mohammad Rafieetary, OD, of Charles Retina Institute in Germantown, Tenn. "Although PCV can be present in both men and woman of different ethnicity in the United States, the typical patient is a middle-aged African American female."
According to Dr. Rafieetary, the most common misdiagnosis of PCV is AMD, but it is possible for both conditions to be present in the same patient. Indocyanine green angiography is the decisive diagnostic test; it will highlight the polyp-like branching of choroidal vasculature, he says.
PCV's pathophysiology is unclear, but Dr. Rafieetary says systemic hypertension may play a role in PCV complications such as subretinal bleeding. Additionally, many PCV patients may be asymptomatic and will only be diagnosed on routine examination. "Patients presenting with symptoms complain of blurred and distorted vision as well as central or paracentral scotomas associated with the presence of subretinal fluid or hemorrhage," notes Dr. Rafieetary.
Anti-VEGF injections and photodynamic therapy are "the most common and effective therapies to minimize permanent central vision loss," Dr. Rafieetary says.
In this case, Dr. Ditmetaroj asked the patient to return the next day for evaluation by a retinal specialist. When he returned, the findings were unchanged, the diagnosis confirmed and the patient educated and monitored monthly.