Retinal Infarction: Better Safe Than Sorry

Too few patients presenting with retinal stroke are receiving follow-up testing, new research shows.
By Francesca Crozier-Fitzgerald, Associate Editor
As the retina and brain receive blood from a shared source, retinal infarction, or stroke in the eye, should serve as a clear warning sign for more severe, underlying systemic health risks or potential future stroke.1 While these high-risk cases should be referred to a neurologist or sent for a full basic stroke examination, a new study shows these critical steps are not taking place as often as they should.1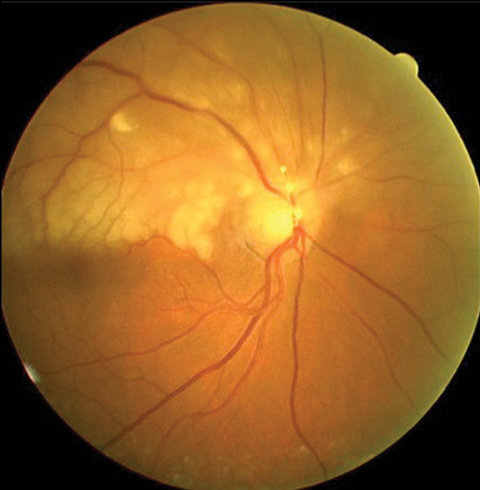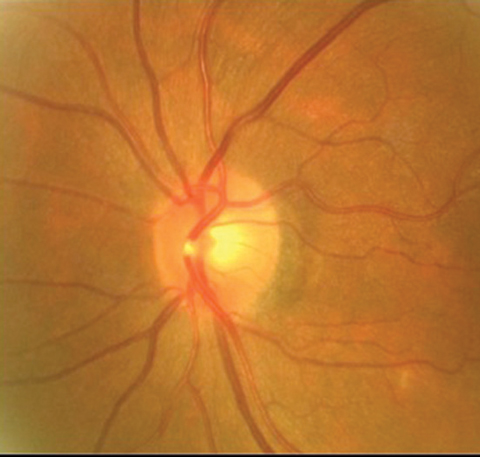 If a patient presents with BRAO with emboli, as seen here, clinicians should refer them immediately for a full stroke workup.
Photos: Carlo Pelino, OD
Researchers at the American Heart Association (AHA) followed 5,688 patients presenting with retinal infarction and found only one-third were sent to receive a basic stroke workup, and less than one in 10 were referred to a neurologist. Not surprisingly, within 90 days of their initial retinal infarction, the study shows that one in every 100 patients from this group experienced ischemic stroke.1
"Due to the nature of the claims data, we didn't specify what type of retinal infarction they had, but included any patient with central retinal artery inclusion (CRAO), branch retinal artery occlusion (BRAO) or amaurosis fugax," says lead study author and neurologist Alexander Merkler, MD.
In a video interview with the AHA, Dr. Merkler noted, "We're really not doing an appropriate job evaluating those patients with retinal infarction for stroke risk factors, and therefore we may not be preventing future full-blown ischemic stroke in these patients."
And it's not that the gravity of these cases is being overlooked.
"As optometrists and ophthalmologists, our responsibility is to recognize the risks of retinal artery occlusion in a holistic way, as it serves as a warning sign for threats that go beyond the patient's vision health," says Carlo Pelino, OD, chief of Optometric Retina Service at the Eye Institute of Philadelphia.
"When we get a patient with BRAO or CRAO in our chair, we know to send that case, as soon as possible, to the nearest stroke center or emergency room. These urgent cases should receive a diffusion-weighted imaging (DWI) MRI and subsequent blood work to rule out other potentially life-threatening conditions, like ischemic or hemorrhagic stroke," Dr. Pelino says.
Research shows DWI imaging is an ideal tool for diagnosing acute ischemic stroke.2
"Patients with retinal infarction should be cared for in the same manner as patients with infarction of the brain," Dr. Merkler says.
The study further illuminates the importance of interprofessional collaboration between optometrists, ophthalmologists and neurologists. Better communication and proactive follow-up testing is crucial to help ensure clinicians identify early warning signs, implement necessary precautions and prevent future risks as quickly as possible.
Amblyopia Therapy: Skip the iPad

The Pediatric Eye Disease Investigator Group (PEDIG) has been looking at the efficacy of a binocular iPad game for amblyopia therapy, and the second round of results, this time with participants in their teens, isn't promising: 16 weeks of therapy with a binocular iPad game was no better than patching therapy—and possibly worse.1
Worm Your Way Into This Diagnosis
A 26-year-old Oregon woman has been hailed as the first case of a Thelazia gulosa infection and the first reported case of human thelaziasis in North America in more than two decades.1
While on a salmon fishing expedition in Alaska, Abby Beckley, lifelong rancher and travel enthusiast, experienced a red, irritated left eye with a foreign body sensation, droopy eyelid and migraines. Once on shore, she found a mirror and proceeded to pull a worm from her eye. Clinicians at Oregon Health and Science University in Portland sent samples to the Centers for Disease Control and Prevention's (CDC) Parasite Diagnostics and Biology Laboratory for identification.2 That's when researchers realized this was not just a rare case, but an unprecedented discovery.1 She was diagnosed with parasitic infiltration of the left periocular tissues and a secondary bilateral papillary reaction of the upper and lower palpebral conjunctivae.2 The infiltrate was T. gulosa, which, until now, was known to only infect cattle.2
The few previous cases of human eyeworms reported worldwide implicate two species of Thelazia: T. callipaeda in Asia and Europe and T. californiensis in the United States.1 While a common veterinary infection, Ms. Beckley's infection is the first reported case of this specific species of Thelazia to jump species—via a fly vector—and infect a human.1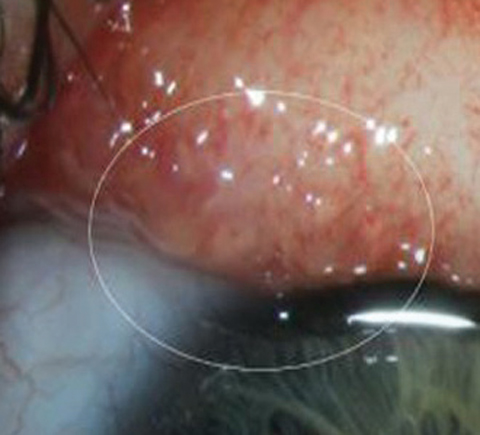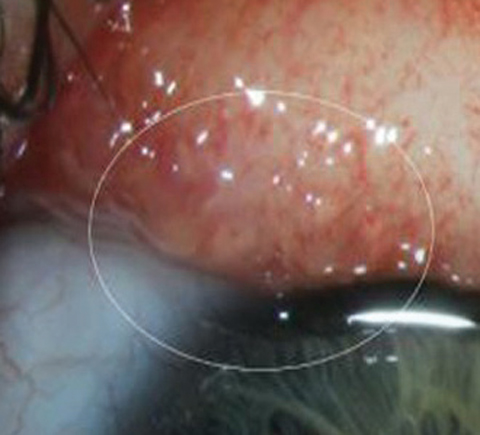 T. gulosa on the surface of a patient's conjunctiva (circle).
Photo: CDC.gov/DPDx.
Clinicians chose to manually remove the worms over a 20-day period.1 Because the worms remain on the surface of the eye, there is little concern for systemic complication; however, some reports suggest corneal scarring, opacity and blindness without proper treatment.1,2
Luckily, Ms. Beckley had a team of physicians, optometrists and CDC experts to help her through the ordeal—and make history.1
1. Bradbury RS, Breen KV, Bonura EM, et al. Case report: conjunctival infestation with Thelazia gulosa: a novel agent of human Thelaziasis in the United States. Am J Tropical Medicine and Hygiene. February 12, 2018. [Epub].
2. LaMotte S. 'I looked at it, and it was moving': Worm in woman's eye leads to unique discovery. CNN. February 12, 2018. www.cnn.com/2018/02/12/health/human-eye-worms/index.html. Accessed February 13, 2018.
"Doctors working with the pediatric population were hopeful that iPad therapy would provide an additional treatment option to manage amblyopia," says Kara Tison, OD, an assistant clinical professor and chief of pediatrics at the University of the Incarnate Word Rosenberg School of Optometry. "It was disappointing to learn that the iPad therapy was unsuccessful."
The researchers randomized 100 participants between the ages of 13 and 16 to 16 weeks of either one hour of a binocular iPad game daily or patching of the fellow eye for two hours a day. Results showed those in the iPad group had a mean ambloyic eye visual acuity (VA) increase of 3.5 letters from baseline, while those in the patching group had a mean improvement of 6.5 letters. The difference, after adjusting for baseline VA, was -2.7 letters in favor of patching therapy.1
An earlier PEDIG study with younger participants ages five to 12 provided inconclusive results, and was unable to establish if iPad game play was worse than two hours of prescribed patching.2
Working from such lackluster results, the new finding shouldn't come as a huge shock. What was surprising was one of the possible reasons behind the results: compliance. In the age of technology, you would think teens would do well with a vision therapy program that includes video games. However, the data shows only 13% of participants completed more than 75% of the prescribed treatment.
"Unfortunately, teenagers found the iPad game uninteresting, and the study was stopped early due to poor compliance and visual acuity improvement favoring patching," Dr. Tison says.
"With evidence that binocular treatment of amblyopia can improve visual acuity for adults, there is still hope that, with the right game, we can see improvement with binocular treatment for the pediatric population," Dr. Tison says. PEDIG is already recruiting for another binocular iPad game, ATS20 Binocular Dig Rush Game Treatment for Amblyopia, which will hopefully be more appealing and lead to better treatment adherence, according to Dr. Tison.3
1. Manh VM, Holmes JM, Lazar EL, et al. A randomized trial of a binocular iPad game versus part-time patching in children aged 13 to 16 years with amblyopia. Am J Ophthalmol. 2018 Feb;186:104-15.
2. Holmes JM, Manh VM, Lazar EL, et al. Effect of a binocular iPad game vs part-time patching in children aged 5 to 12 years with amblyopia. JAMA Ophthalmology. 2016;134(12):1391-400.
3. PEDIG. ATS20 - Binocular Dig Rush Game Treatment for Amblyopia. http://pedig.jaeb.org/Studies.aspx?RecID=506. Accessed February 20, 2018.
Ears use Eyes to Anticipate Sound

A recent study reveals that the visual and auditory systems are far more coordinated than previously predicted.1
The researchers placed 16 study participants in a dark room, presented them with visual LED light stimuli and asked them to follow the light with their eyes while maintaining a fixed head position. Highly sensitive microphones placed in the ear canal tracked the concurrent eardrum vibrations.1
The results showed a clear correlation: simply moving the eyes from one side to the other induced parallel movement in the subject's eardrums. When the participants' eyes made larger, more exaggerated movements, a greater vibration was tracked in the ear canal. This auditory response occurred even in silent environments, suggesting eye movements and auditory response are connected with or without the presence of sound.1
Surprisingly, results show vibrations in the ear occurred slightly before (10ms) the eyes began tracking, leading researchers to believe the brain's desire to align stimuli from the visual and auditory pathways is significant quite early in the process.
The study results may help researchers better understand the role vision can play in hearing-impaired individuals, as well as the ways hearing can aid in the perception of stimuli for the visually impaired.
1. Gruters KG, Murphy DLK, Jenson CD, et al. The eardrums move when the eyes move: A multisensory effect on the mechanics of hearing. Proceedings of the National Academy of Sciences. 2018;201717948. [Epub ahead of print].
New OD Surgical Fellowship

The University of the Incarnate Word's Rosenberg School of Optometry recently launched a new Fellowship in Ocular Disease and Optometric Surgery that focuses on "ocular disease and minor surgery through intensive hands-on clinical experience and concentrated disease exposure," according to the school's program guide.
It emphasizes surgical procedures optometrists in some states are currently allowed to perform, such as laser iridotomy, trabeculoplasty, YAG capsulotomy, procedures involving amniotic membranes and excision of dermatologic lesions and chalazia, as well as subcutaneous and subconjunctival injections.
"It's something we think is necessary," says Fellowship Program Coordinator Kyle Sandberg, OD. "We look at what's happening in eye care and the population, and we see there's going to be a need for medical eye care."
Although the school is in San Antonio, the fellows will complete the 12-month program at the DeSoto Parish Regional Eye Institute and Surgery Center in Logansport, La., and will follow up with patients out of the optometric practices of Dennis Golden, OD, in Carthage, Texas.
Currently, one optometric fellow's career is already taking off as a result of the new program. "So far, I've probably done close to 200 laser procedures and removed 500 lumps and bumps," explains the program's pilot fellow Katherine Dronka, OD, who also educates students and trains technicians as part of the fellowship. This knowledge base has provided her a launching pad to the next step in her career, teaching optometric surgical procedures at the University of Pikeville in Kentucky, a position she's stepping into in July.
A Piece of the Puzzle
On the surface, the program gives individual optometrists a deep background in performing optometric procedures; but the program has an additional motive: expanded scope of practice. While Texas neighbors Oklahoma and Louisiana have gone as far as to indicate laser procedures for optometric use, Texas remains one of the most restrictive states for optometrists in the country. But Dr. Sandberg is working to change that by meeting with legislators and addressing their concerns, in part by by discussing Rosenberg's surgical fellowship.
"I am part of the Texas Optometric Association, and our goal is to push scope expansion in 2019," Dr. Sandberg says. "The challenge has always been 'where do optometrists get that training?'"
He's hoping this fellowship will show that ODs are, in fact, receiving intensive training and hospital privileges and ODs in Texas can add lasers and minor procedures to their lineup. "We've got tons of clinical data that shows complication and success rates. I'm confident that our data will show that we're at the same levels as ophthalmologists," he says.
In the news
A recent study from the United Kingdom found patients with diabetes are twice as likely to develop cataracts as those without the condition. The researchers analyzed the medical records of more than 56,000 diabetes patients older than 40 and discovered those between ages 45 and 49 were 4.6 times more likely to develop cataracts, while those between ages 50 and 54 had a 5.7 times higher risk than healthy individuals.
Becker C, Schneider C, Aballéa S, et al. Cataract in patients with diabetes mellitus—incidence rates in the UK and risk factors. Eye. February 1, 2018. [Epub ahead of print].
Researchers have discovered increased upper-body strength in men is associated with higher baseline intraocular pressure (IOP). After taking baseline IOP measurements, researchers asked 65 men to perform an incremental loading test in the ballistic bench press. Results show a strong correlation between baseline IOP and relative maximum force and power, as well as relative one-repetition maximum—which may have implications for managing ocular conditions in patients who participate in resistance training programs, study authors say.
Vera J, Jiménez R, García-Ramos A, Cárdenas D.Muscular strength is associated with higher intraocular pressure in physically active males. Optom Vis Sci. 2018;95(2):143-9.
Investigators are calling for validated classification criteria in the field of uveitis after a review of 5,766 uveitis cases revealed agreement among uveitis experts on diagnosis is moderate at best. Five committees of nine experts each reviewed cases from a database of 25 uveitic diseases, and only after committee consensus conference calls were they able to reach agreement in 99% of cases.
Jabs DA, Dick A, Doucette JT, et al. Interobserver agreement among uveitis experts on uveitic diagnoses: the standardization of uveitis nomenclature experience. Am J Ophthalmol. 2018 Feb;186:19-24.