Q:
I've recently seen some compelling data regarding the use of multifocal lenses for myopia control.1 What are the particular parameters that make this an effective treatment option and is there an ideal age at which I should consider using such a design?

A:
"Custom soft multifocal lenses are an essential part of my own protocol," says Kevin Chan, OD, center director for Treehouse Eyes, the first United States healthcare provider exclusively dedicated to myopia control. "Of course, like any contact lens fit to any patient, clinical outcomes may vary from patient to patient, so there is no single best answer to the question that applies to every patient."
For David Kading, OD, owner of Specialty Eyecare Group in Seattle, "our normal, and first-line, treatment is usually orthokeratology." However, "gaining in popularity are soft lens multifocals," he adds.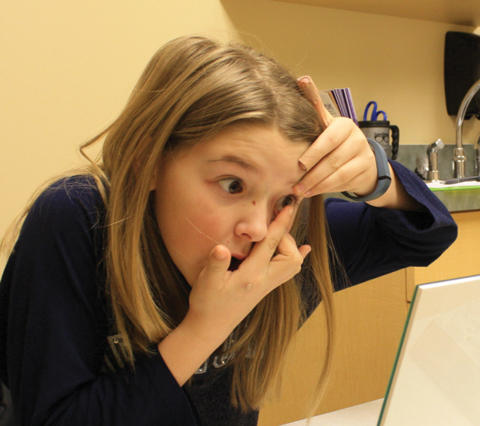 Drs. Chan and Kading agree that the younger you fit kids for multifocal lenses, the better your myopia control results will be.
Photo: Jeffrey J. Walline, OD, PhD
Data from a prospective three-year study (funded by Cooper-Vision) of 144 kids ages eight to 12 presented at the British Contact Lens Association meeting in June found that a dual-focus soft lens was able to slow myopia progression 59% by cycloplegic spherical equivalent refraction and 52% by mean axial elongation.1
Studies such as this can give practitioners greater confidence in using multifocals for kids. How best to do it, though? "Usually the more peripheral plus power you can get into the lens, and the closer you can get it to the macula, the better the treatment outcome may be," Dr. Chan says. "It is certainly not an easy task, since we want to provide the best possible myopia control effect without compromising distance vision." According to Dr. Chan, this means "the distance center zone (i.e., treatment zone) may wind up being just a few millimeters big and much smaller than you might use on a presbyope." His practice emphasizes "'feeding' plus power in the periphery within the pupil size."
"One of our advisors is also studying the effects of decentering the optics to align with patients' visual axes by adding vertical prism for stability, in an effort to precisely provide maximum peripheral plus and minimize central vision blur," Dr. Chan adds. For contact lenses, this moves the distance optic closer to the visual axis than the geometric axis. With this decentration, distance vision is improved because there is less peripheral myopic defocus hitting the macula. As a result, ODs can use significantly higher add powers to reduce hyperopic peripheral defocus.
How young can kids begin wearing multifocals? Dr. Chan says that, generally, "the younger the better. We've treated kids as young as six years old." Dr. Kading concurs: "Like any option for myopia control, we really want to start the treatment as soon as we can. In our clinic we like to initiate treatment as soon as we start seeing the patient progressing." In Dr. Kading's experience, myopia progression usually happens between ages six and 10, "although many kids show some progression sooner and later."
To best keep tabs on myopia progression, Dr. Kading begins by looking closely at the progression rates, family prescriptions and activities the kids are involved in starting around five years old. "However, we have fit kids as young as four into myopia treatment," he adds.
As long as patients and parents are "motivated and eager to slow down the myopia," effective treatment is certainly attainable in these cases, Dr. Chan says. "With patience, and enough time, the technical aspects of lens insertion and removal are certainly trainable and should not be a barrier to treating these kids."
1. Chamberlain P. Three-year effectiveness of a dual-focus myopia control 1-day soft contact lens for myopia control. Presentation at 40th BCLA Clinical Conference Exhibition, June 10, 2017; Liverpool.