These days, soft contact lens wearers have more lens choices than ever before. With the advent of new technologies and expanded parameters in monthly lenses, an uptick in daily disposables and the tried-and-true two-week option still an economical alternative for some, how do you determine which contact lens is best?
When deciding on a replacement schedule with patients, clinicians must initiate a conversation about what the patient values and their ability to remain compliant with the replacement schedule, says Jeffrey Sonsino, OD, of Nashville, Tenn. "The literature is pretty clear about the superior safety profile of daily disposables. For this reason, we tend to prescribe more daily disposables than any other modality," says Dr. Sonsino.1-3
Yet, not every patient values the convenience and safety profile of single-use lenses, he adds. "Whether it's cost, perceived environmental effect or any other reason, some patients are more suited to less frequent replacement lenses. At that point, the conversation shifts to their ability to stick to a schedule."
From cost to convenience to compliance, optometrists with successful contact lens practices weigh in on their prescribing habits, the pros and cons of each option and the key questions they ask when the patient is in the chair.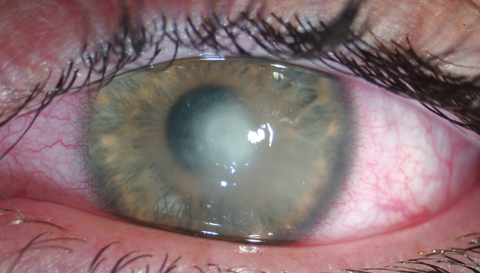 This patient was diagnosed with Acanthamoeba keratitis from wearing soft contact lenses in a hot tub.
Click image to enlarge. Photo: Jeffrey Sonsino, OD
Consideration Checklist
Stephanie Woo, OD, of Lake Havasu City, Ariz., tries to fit all new wearers into daily disposable lenses if their prescription allows.
"Sometimes, patients come to the follow-up visit and want to be refit into a monthly lens, which can be frustrating," she says. "If someone is happy and comfortable with their lenses, and has good ocular health, I will tend to keep them in their current lenses. I will let them know of new technologies, but I will not push them to try something new if they do not show interest."
Dr. Woo estimates 60% of her patients are monthly wearers, with 30% in a single-use lens and the remaining 10% in two-week modalities.
For Dr. Sonsino, all new wearers in his practice who are under the age of 16 are automatically placed in daily disposables, unless he is using orthokeratology for myopia prevention and control. Patients who insist on extended wear (EW) lenses are fit with monthly replacement lenses approved for EW, he adds.
"Although there are two-week replacement lenses approved for EW, we prefer the oxygen diffusion coefficient of the monthly lens. Patients with papillary conjunctivitis are refit into daily disposables as their best option to remain in contact lens wear," Dr. Sonsino adds. He also prescribes hybrid six-month replacement lenses for patients with astigmatism or astigmatism with presbyopia because he feels they offer benefits over soft toric lenses. With greater oxygen permeability afforded by the gas permeable core, they are also a first choice for high myopia or hyperopia, he adds.
Other prescribing considerations on Dr. Sonsino's checklist are wearing behavior and any new changes in lens technologies.
If a patient has traditionally been a monthly wearer, Dr. Sonsino will not hesitate to recommend the single-use modality. He estimates that 50% of his patients are in daily disposables, 20% in monthlies, 20% in six-month hybrid lenses and 10% in two-week lenses.
When suggesting daily disposables, Dr. Sonsino says his practice is "not afraid to hear the dreaded word 'no.' If the patient chooses to stay with their current modality, we will offer the best technology monthly lens for their given history."
Dr. Sonsino will consider the following when determining the best lens modality:
Does the patient experience end-of-day dryness?
Does the patient have deposit build-up?
Are there signs of corneal neovascularization?
Does the toric lens show signs of instability during the day?
"It is only by asking probing questions that we can find the best match. And, this keeps our patients returning every year," he says.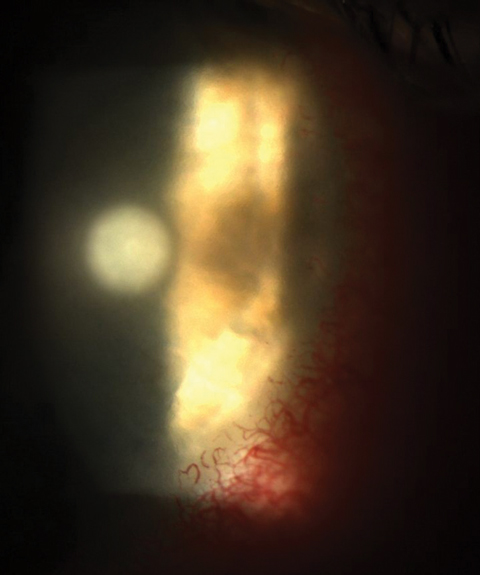 Not replacing soft contact lenses as directed can lead to infiltrative keratitis.
Photo: Jeffrey Sonsino, OD

A Lens a Day
The popularity of the daily replacement modality seems to be on the rise. A recent point-of-sales-data report from the market research company GfK Custom Research found that for the first time, in January 2017, sales of single-use contact lenses surpassed monthlies in dollar volume, reaching 38.1% market share worldwide.4 This was up from 31.5% in January 2016.4 In 2012, single-use lenses only represented 17.9% of the market.4
In the United States, the daily disposable lens segment continues to grow at a faster pace than any other modality, increasing 21% in dollar volume year-over-year.4 Additionally, GfK found new products and innovations continue to drive this surge in daily disposable lens sales.4 In 2016, 42% of the growth in the single-use lens category was from product launches in the prior year.4
Kambiz Silani, OD, of Beverly Hills, Calif., fits a majority of his patients in single-use lenses. "This is my lens of choice because patients wear a clean, new lens daily, reducing the chance of dry eye, ocular allergic responses and other contact lens-related issues," Dr. Silani says. His patients often ask for daily disposables because they are convenient, without the need for solutions or cleaning and have a simple replacement schedule, he says.
Dr. Silani estimates 65% to 70% of his patients are in single-use lenses, with the remaining split evenly between monthly and two-week options.
Some optometrists, including David L. Kading, OD, of Seattle, Wash., believe all patients should be in daily disposable lenses. The vast majority of people who wear lenses other than single-use lenses wear them improperly, which may lead to drop outs and discomfort, he says.
A recent study found that replacement noncompliance was only 12% for patients in the United States who wore daily disposables.5 This non-compliance rate was significantly better than patients wearing either two-week (52% noncompliance rate) or monthly (28% noncompliance rate) disposable lenses.5
"We have to look at who the people are who are dropping out of contact lens wear and why they are dropping out," Dr. Kading says. "We know discomfort and dryness are the two primary reasons."
In selecting the best modality, solution-induced issues can be eliminated with a single-use lens, Dr. Kading explains. "By going to daily disposables, we get rid of some of the main causes of contact lens issues that result in discomfort and dryness."
Even patients who are noncompliant with daily disposables still may be better off than those in monthly lenses, Dr. Kading adds. For example, if a patient in a single-use lens wears them for two days instead of one, this scenario is better than a monthly lens option because the patient in the single-use lens is still replacing the lens far more regularly, Dr. Kading says.
"But we certainly want to advocate for daily replacement."
He estimates 93% of his patients are in daily disposable lenses.
Still, some optometrists do see a few downsides to the daily disposable modality. These include limited parameters for toric and multifocal lenses and patients' preconceived ideas about cost, Dr. Woo says. Patients may also be concerned about the environmental impact with excess plastic and storage space required for a larger number of lenses, Dr. Sonsino adds.
"But, in my opinion, the environmental impact of dumping contact lens solutions down the drain is greater," he adds.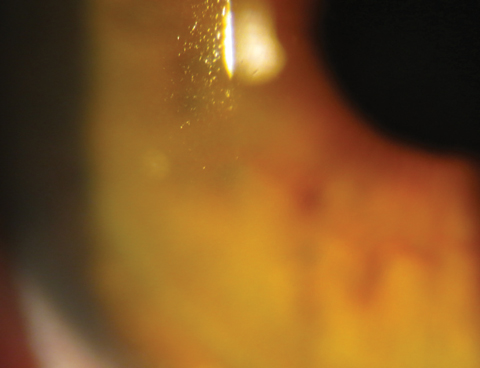 This patient developed a peripheral corneal ulcer due to contact lens over-wear.
Photo: Stephanie Woo, OD

The Long Game
Dr. Kading sees the demand for two-week lenses shrinking, as these lenses are comprising a smaller and smaller percentage of the market. Additionally, because the majority of manufacturers have recently introduced new monthly lenses, they are taking away some patients in the two-week market, he adds.
While Dr. Silani finds most patients are comfortable with the cost of daily disposable contact lenses and appreciate their benefits, some of his patients like the two-week and monthly replacement lenses as more affordable options.
Two-week lenses, when replaced appropriately, have less cumulative deposit accumulation than monthly replacements, Dr. Sonsino says. Additionally, two-week lenses have a wide range of available powers and some even offer UV-blocking capability. However, their technology has been around for years, and patients tend to abuse the replacement schedule more than with other modalities, Dr. Sonsino says.
Dr. Woo says the majority of her patients are either in a daily or monthly lens, and for those wearing two-week lenses, they are typically noncompliant in the replacement schedule and often will wear the lens for a month at a time.
Monthly lenses have some advantages, according to Dr. Woo, including the availability of a wide variety of material options and parameters such as power, cyl power, axis, base curves and diameters. And in general, patient compliance is good, she says. However, the monthly options are not as healthy for the ocular surface as a single-use lens, and patients tend to be less compliant than those in daily disposable lenses, she adds.
In addition, "if a patient is a part-time wearer, the lenses are stored in solution for several days, which can harbor more bacteria or other microbes compared with a daily lens," Dr. Woo adds.
Further drawbacks with the two-week and monthly lenses include the fact that patients need to purchase solution, and the lenses must be rinsed and stored overnight, Dr. Silani says. Storage cases introduce an opportunity for organisms to flourish, increasing the risk of contact lens-related adverse events—something single-use lenses avoid. The lenses are more prone to developing deposits, and patients may develop allergies or toxicity to the solution preservatives or the lens deposits. Finally, if the patient doesn't stick with the replacement schedule, they can increase the risk of contact lens-related issues such as corneal infiltrates or corneal ulcers, Dr. Silani says.
For patients disciplined in other areas of life, this is a wonderful replacement schedule, Dr. Sonsino says. But the literature is clear that the two-week modality is the most widely abused contact lens replacement schedule, he adds.
"For patients who have a more laissez-faire attitude toward structure, the monthly modality is king. Patients may be more likely to stick to a schedule that is the same each month and tie replacing lenses to another monthly activity, like receiving their paycheck. I try not to discuss connecting contact lens replacement to paying bills, as this denotes a negative activity, and we want wearing contact lenses to be a happy experience," Dr. Sonsino says.
The Economics of Daily Disposables
Cost is the number one reason practitioners hold off on recommending daily disposable lenses, Dr. Kading believes. But clinicians must remember to address the additional cost of solution—on top of the price of an annual supply of a two-week or monthly option— he adds.
To properly clean a two-week or monthly lens, patients should be using around an ounce of solution a day, he says. "That's three bottles a month, or $30. The patient would spend $400 a year just on solution. However, most patients simply compromise their health with solution non-compliance and only use about three bottles a year."
If you factor in the cost of an annual supply of monthly or two-week lenses, along with the appropriate amount of solution, the total would be similar to the cost of an annual supply of a daily disposable lens, he says.
"I ask monthly and two-week wearers if they find their lenses are as comfortable at the end of the wearing cycle as they are the first day and, inevitably, they all say no. When I ask them why they think that might be, they almost always say because the lens isn't as clean as it should be. I would like to assume they are cleaning the lenses the way they are supposed to, but if they're not, I tell them I can help them save money on solution and get them into a healthier daily contact lens," Dr. Kading says.
Regardless of cost, Dr. Kading strongly believes daily disposables are a better option for long-term health. "We know so many people have inflammatory events, and even infections, and drop out of lenses, so I tell my patients we want to maximize your chance to wear contact lenses for the rest of your life."
Economics for the Practice
"As clinicians we want to always advocate for what is best for the patient, and usually this is in the best interest of our practice," Dr. Kading says.
Single-use lenses also offer the potential to build a contact lens practice, he adds. With regards to practice profit, a six-month supply of daily disposable lenses is equivalent to a year supply of a monthly lens, and could be a good option for spectacle lens wearers and occasional wear. And without the purchase of solution, the money is going into the practice instead of into the pharmacy, he adds.
The advent of daily disposable lenses has significantly increased the possibility for occasional wear, Dr. Kading says. "Frequently, I sell a patient a 30-day or 90-day supply that lasts them through the end of the year. That's strictly for the benefit of the patient, but I also have my fitting fee that covers my clinic time seeing the patient and discussing contact lenses. And many of these patients buy glasses too. So it's really an economic win for the patient and the practice. And it frees the patient up to wear lenses just when they want," Dr. Kading says.
Occasional wear also provides new opportunities for patients who can no longer wear contact lenses on a consistent basis. "If a patient is going to a wedding and doesn't want to wear glasses, they may feel they can't wear a lens because they are only thinking about a monthly disposable. Daily disposables give patients freedom once a week or once every other week to wear a lens even if they can't be comfortable in it for eight hours. The daily disposable lens provides them that option that wouldn't be economically sound in a monthly or two-week lens."
Fitting Extras
After Dr. Woo has determined the prescription and keratometry values, she will ask why a patient wants to wear contact lenses, how long they plan to wear the lenses during the day, if they have allergies and if they will be a full-time wearer.
For new contact lens wearers in Dr. Silani's practice, he typically presents the three contact lens replacement options, highlights the differences and then helps the patient make the right decision for their health and lifestyle.
"For patients with busy lifestyles or pediatric patients, I commonly advise their best option is a daily, single-use lens," Dr. Silani says. "For price-conscience patients, I typically recommend we start with a two-week or monthly modality lens knowing that we have the option to switch to daily disposables if complications arise."
For current contact lens wearers, Dr. Silani asks the patient about their satisfaction level on a scale of one to 10 on comfort, vision and how the lenses feel in the evening. He also asks how long the patient wears the lenses during the day and what time of day the lenses begin to feel uncomfortable.
"If these patients are happy, with no complaints, as well as no signs or symptoms of contacts lens-related issues, then I renew the prescription. On the other hand, if the patient raises concerns to the questions, then I advise we switch to a hydrogen peroxide solution or switch to a daily, single-use contact lens," adds Dr. Silani.
If there's an issue related to the anterior segment, such as reduced tear film break-up time, giant papillary conjunctivitis or corneal staining, Dr. Silani will discontinue the contact lens wear, address the health issue, reintroduce the contact lens gradually and consider switching the patient to a single-use contact lens.
Today, optometrists have a plethora of contact lenses from which to choose. And while daily disposable lenses are pushing ahead in the market, some patients may still opt for other replacement modalities.
"While there is a huge push for daily contact lenses, the cost can be prohibitive for many patients," Dr. Woo says. "Instead of discouraging the patients who might even opt not to wear contacts, being able to give them all their options can help patients try contact lenses if they are interested."
1. Chalmers RL, Hickson-Curran SB, Keay L, et al. Rates of adverse events with hydrogel and silicone hydrogel daily disposable lenses in a large postmarket surveillance registry: the TEMPO Registry. Invest Ophthalmol Vis Sci. 2015;56(1):654-63.
2. Sorbara L, Zimmerman AB, Mitchell GL, et al. Multicenter testing of a risk assessment survey for soft contact lens wearers with adverse events: a contact lens assessment in youth study. Eye Contact Lens. October 13, 2016. [Epub].
3. Carnt N, Stapleton F. Strategies for the prevention of contact lens-related Acanthamoeba keratitis: a review. Ophthalmic Physiol Opt. 2016;36(2):77-92.
4. GfK Custom Research LLC. Daily contact lenses surpass monthlies in U.S. sales, account for 38% of market. May 15, 2017. www.gfk.com/en-us/insights/press-release/daily-contact-lenses-surpass-monthlies-in-us-sales-account-for-38-of-market. Accessed June 27, 2017.
5. Dumbleton K, Richter D, Bergenske P, Jones LW. Compliance with lens replacement and the interval between eye examinations. Optom Vis Sci. 2013;90(4):351-8.