Q:
I have read that sector-specific scleral lenses are available.1 Considering the need for a complete corneal vault and proper peripheral scleral landing when using these lenses, can you describe a situation in which they might make sense?

A:
"Scleral lenses can sometimes be modified in the optical zone or central zone, midperiperal/limbal zone and peripheral zones, depending on the manufacturer,"and these are known as sector-specific scleral lenses, says Stephanie L. Woo, OD, Scleral Lens Education Society vice president.
According to Jason Jedlicka, OD, clinical associate professor and chief of the Cornea and Contact Lens service at the University of Indiana, these designs help to better align the lens to the eye in cases where the corneal or scleral shape is highly irregular. "The 'sector-specific' aspect can be related to the cornea, to help normalize the vault in cases of high irregularity or to the scleral alignment zone, where the lens rests on the sclera," says Dr. Jedlicka. "A lens with poor scleral alignment will move with the blink, gather debris under the lens and cause visual issues due to the unstable lens position. In some instances, adding toricity is simply not adequate to resolve this, and a sector-specific landing zone should be used."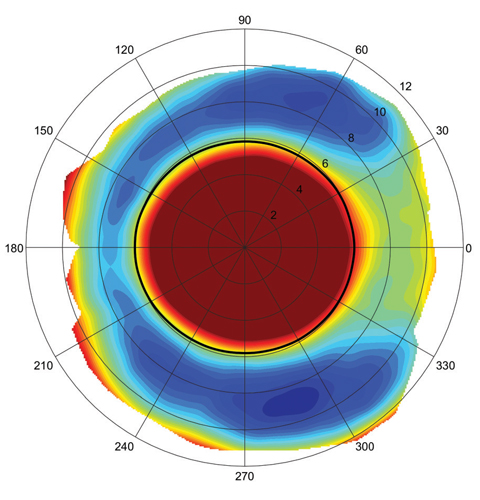 This scleral elevation map shows an asymmetric, atoric sclera, which can lead to poor scleral alignment with spherical or toric haptic lenses. In this case, a sector-specific lens may provide an improved fit.
Click image to enlarge.
Image: Jason Jedlicka, OD
"One instance you might need a quadrant-specific design would be for a post-graft patient," says Dr. Woo. If the graft is tilted or elevated more in a certain area, that area may need more sagittal depth than the rest of the cornea, according to Dr. Woo. "For instance, if you have great clearance in all areas except the nasal area of the cornea, you could change the sagittal depth or base curve in that area of the lens to give you equal amounts of central clearance throughout the whole lens," she says.
Sector-specific scleral designs could also be helpful when dealing with the peripheral area of the scleral lens. "Perhaps the edge of the lens or landing zone is aligning perfectly with the entire sclera except the nasal portion, which has some impingement," says Dr. Woo. "The lab could modify just that quadrant of the lens to achieve better alignment."
Despite the various instances in which this technology can be beneficial, Dr. Jedlicka says that without a scleral topographer, "it is difficult to know when a sector-specific design is needed or would be helpful, and when it would require advanced fitting skills or troubleshooting to make the determination."
Who's Making Them?
Currently, a number of scleral labs offer sector-specific lens designs. According to Dr. Woo, many top companies offer this technology, but smaller labs may have sector-specific options available as well. If your lab doesn't list it on its website, try reaching out. "To find out if your scleral lens lab can fabricate a sector-specific scleral lens, I would suggest calling consultation and asking them," says Dr. Jedlicka. "Many may have the capability but do not necessarily advertise it."
1. van der Worp E. A Guide to Scleral Lens Fitting [monograph online]. Forest Grove, OR: Pacific University; 2010. commons.pacificu.edu/mono/4. Accessed August 4, 2017.