Want to get your practice's future in better focus? Then head to Atlanta March 1-5 for SECO 2017, where more than 300 continuing education (CE) credit hours will be offered. Optometrists will have the opportunity to earn up to a maximum of 41 CE hours.
SECO 2017 will feature more than 200 CE courses for optometrists and ophthalmic professionals, including five special sessions, nine learning labs and the new MedPro360 program.
"Our theme this year, 'Your Future in Focus,' says it all," says Paul C. Ajamian, OD, SECO CE Committee chair. "SECO's CE committee works year-round to provide a slate of select speakers who will discuss not only what is relevant today, but how we prepare for tomorrow. From custom-crafted special sessions to hourly breakout courses to high-level staff training, there is no other meeting that raises the bar like SECO does, year after year."
In addition to a wealth of hourly courses that will take a deep dive into topics such as contact lenses, myopia control and glaucoma, you won't want to miss these special sessions and other clinical educational offerings:
• MedPro360:
This year, SECO will launch MedPro360, a one-day business management program. MedPro360 will bring together health care professionals from all specialties and areas of practice to learn ways to improve the profitability of their business. The program will teach proven strategies in marketing, management, analytics and human resources. Keynote speakers will include Daniel Kraft, MD, presenting "The Future of Health and Medicine: Where Can Technology Take Us?" and Dennis Snow, a former Disney executive, presenting "The Employer Factor." SECO will be targeting 27 different medical specialties for attendance.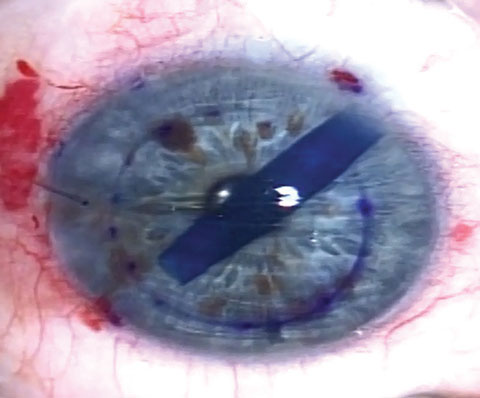 In this DMEK procedure, a scroll of donor Descemet's membrane tissue within the anterior chamber is stained with trypan blue for visualization. Clinicians can learn about such procedures during the "Skinning Cats: Corneal Transplantation From Front to Back" session.
Photo: Aaron Bronner, OD
• Retina Roundup:
Over the last decade, the paradigm has shifted in diagnosis and treatment of posterior segment disease. As such, retinal specialists Mohammad Rafieetary, OD, John Randolph, MD, and Eric Sigler, MD, will discuss the latest in imaging technologies, genetic testing, chemotherapeutic modalities and surgical vitrectomy. They will discuss the most commonly seen retinal diseases and disorders, along with practical advice for the comanaging optometrist.
• Cornea Cornucopia:
This special session will feature a panel of two of ophthalmology's brightest young women, Elizabeth Yeu, MD, and Preeya Gupta, MD, and will be moderated by one of optometry's brightest young men, Walter Whitley, OD, MBA. Attendees will hear updates on what's hot in corneal and external disease. From clinical cases to current trends in eye care, the panelists will provide take-home pearls that will keep attendees on the cutting edge.
• Skinning Cats:
Corneal Transplantation From Front to Back: This special session, taught by one of the nation's leading corneal pioneers, Peter Veldman, MD, will cover the techniques that have revolutionized, and in some cases replaced, corneal transplantation, such as Descemet's stripping automated endothelial keratoplasty, Descemet's membrane endothelial keratoplasty and deep anterior lamellar keratoplasty. He will show videos to demonstrate the procedures, and will review postoperative management and expected outcomes.

• Lessons Learned From Larry:
Honoring a Giant: Larry Alexander, OD, was a mentor to many. This special session will highlight many of his "Eye Lessons" that have been a source of instruction and inspiration to the profession that he loved. Leo Semes, OD, Joseph Pizzimenti, OD, and Blair Lonsberry, OD, MS, MEd, will present.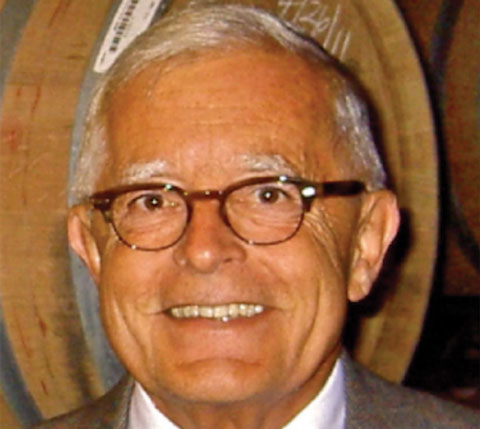 SECO 2017 honors Larry Alexander, OD, with a special session in his name.
• Learning Labs:
Choose from nine learning labs, including the Laser Learning Lab, which will demystify the various laser procedures in eye care, and the MGD Learning Lab, which will provide a hands-on look at the diagnostic and therapeutic modalities for dry eye.
• What's My Beef?:
This series is a fun way to end the day. Topics will include frustrations with pharmacists, vision plans, referrals, glaucoma meds and speakers.
• CEE at SECO:
Choose from 22 courses for 43 hours of continuing education with examination during SECO 2017. The University of Alabama at Birmingham School of Optometry will be the examination provider.
• MACRA and MIPS:
The New MU: Learn about the OD's expanded role with these federal health policies.

• The Optic Neuropathies:
This course, presented by Tina Porzukowiak, OD, will review the clinical presentations of optic neuropathies, including advances in treatment and management with reference to current medical literature.
• Maximizing Profits in a Competitive Market:
The traditional optometric practice mode is facing the ever-increasing challenge of maintaining profitability. This course will identify key metrics a practice owner can use to more accurately measure financial indicators. Speaker David Mills, OD, MBA, will discuss strategies on how to improve the financial health of a practice. On completion of the course, providers will be able to immediately implement changes in their business that will increase the profitability of the practice.

• Free Continuing Education in the Presentation Theaters:
Visit SECO's expanded slate of Presentation Theater courses with 25 additional opportunities to earn free continuing education inside the exhibit hall.
For more information or to register, go to
www.seco2017.com
.
No "I" in Team

For 2017, SECO will offer 30 team-centered courses designed to benefit ophthalmic professionals as well as optometrists. These courses will offer a unique opportunity for doctors and staff members to learn side-by-side.

Here is a snapshot of some of the team-centered courses:

• OSD is Not a Four-Letter Word: According to a recent report, the dry eye products market is expected to generate $4.5 billion by the year 2020.1 New technologies and new treatment modalities are emerging at an explosive rate. This course will help you make sense of the many options available to detect and manage ocular surface disease. The speakers, Alan Kabat, OD, and Whitney Hauser, OD, will discuss the latest information on appropriate diagnostic testing, therapeutic interventions and practice patterns to help ensure success.

• The Future of Cataract Surgery: Presented by Dr. Ajamian, this course will explore modern-day cataract surgery, including advances that are available now but not universally embraced, along with future technology.

• In-Office Emergencies: It is crucial for every health care provider, including optometrists, to be prepared for potential in-office emergencies and have an appropriate response plan in place. Caroline Pate, OD, and Elizabeth Steele, OD, will discuss potential non-ophthalmic emergencies, along with training and supplies for the office and staff.

• Making Sense Out of Health Care Reform: This topic has been extremely dynamic in recent years and still remains a confusing topic. This course, which will be presented by Bryan Rogoff, OD, MBA, will provide an overview of how to transform your practice to remain compliant. Dr. Rogoff will share information on the stress this can cause on practice operations, revenue growth, marketing, and patient flow and retention.

For a full list of team-centered courses, go to:
www.seco2017.com/education/team-centered-course-list.html.

1. Cannady K. Dry eye products market expected to generate $4.5 Billion by 2020. Market Scope. January 22, 2016. Available at www.market-scope.com/pressrelease/dry-eye-products-market-expected-to-generate-4-5-billion-by-2020. Accessed on January 24, 2017.