When evaluating options for glaucoma management, the number of treatments is growing and changing at a pace that is faster than ever. Historically, optometrists have had a relatively limited number of choices for their glaucoma patients, not only in terms of topical medications but also surgical interventions. There are changes on the horizon, as, now more than ever, practitioners have a fairly large number of topical medications in their arsenal, with even more on the way.
Non-pharmacologic procedures and surgeries have been discovered or refined, including a newer generation of minimally invasive glaucoma surgery (MIGS), laser procedures and surgical techniques, such as modified goniotomy and other angle surgeries.1,2 This article will focus on the topical treatment options for glaucoma and highlight newly marketed topical agents, as well as treatments that are currently in clinical trials. Additionally, we will discuss the impact of generic formulations.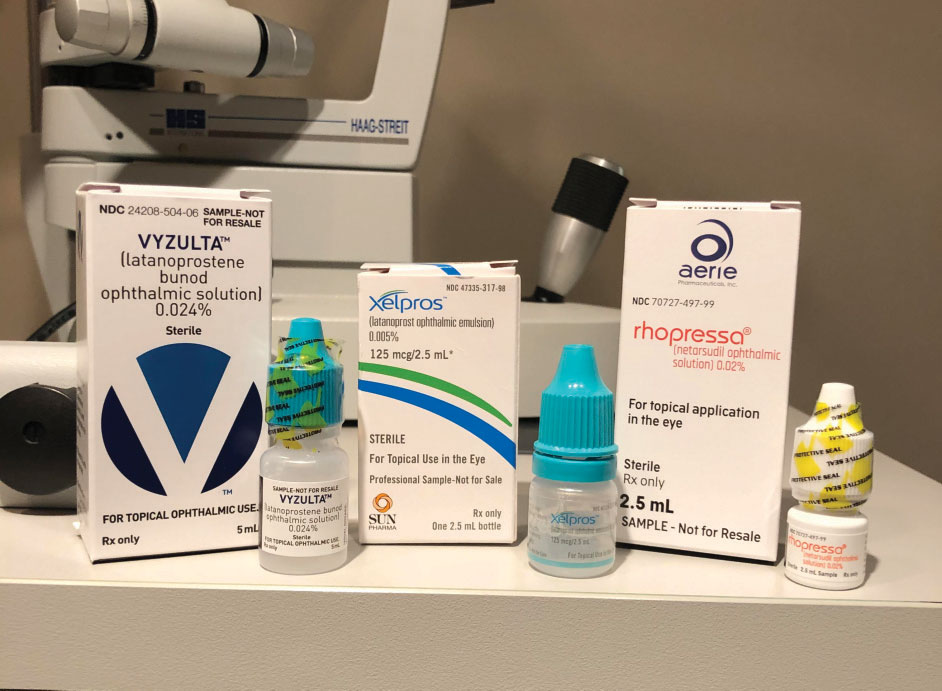 Vyzulta, Xelpros and Rhopressa offer great change for glaucoma therapy.
Growing the Market
The FDA approved a new set of topical glaucoma medication approvals in 2017 and 2018. This had a significant impact on optometric practice, as it had been 23 years since a new medication category (prostaglandin analogs) or a new mechanism of action (increase in uveoscleral outflow) had been approved for the management of ocular hypertension and glaucoma.
What makes these approvals even more exciting is that they are agents with novel mechanisms of action. So, as this "drug drought" is ending, the optometric community is starting to see how exciting and impactful these new approvals are going to be.
In 2017, the FDA approved Rhopressa (netarsudil ophthalmic solution 0.02%, Aerie) and Vyzulta (latanoprostene bunod ophthalmic solution 0.024%, Bausch + Lomb).3,4 In 2018, the FDA approved Xelpros (latanoprost ophthalmic solution 0.005%, Sun Pharma).5 These changes to the topical glaucoma drug world mark a defined shift not only in terms of new pharmaceutical agents but also in who is bringing these treatments to market. With Aerie Pharmaceuticals, Bausch + Lomb and Sun Pharmaceuticals in the glaucoma arena, our drug arsenal has grown substantially.
Generics and Prescribing
Choosing the best medication for a patient with glaucoma (or any diagnosis) is not as simple as it sounds. Clinical education and training doesn't prepare us for that dreaded call from the pharmacist or patient who was just told: "That drug is not covered by insurance," or, "Prior authorization needed for that drug." Even more common is, "Insurance requires use the generic version." While those phone calls can be a nuisance, some may actually impact the quality of a patient's care. Despite the best efforts of the FDA regarding the manufacturing of generic drugs, evidence suggests that topical ophthalmic medication and their "generic equivalents" are not always exactly equivalent.6-8
It is true, however, that the generic equivalent to a branded agent must have the same active ingredient, the same strength/concentration and use the same dosage form and route of administration.9-11 However, bioequivalence studies are not required, and that may be one of the biggest potential problems associated with this "generic equivalent" mindset that insurance companies seem to mandate.6-8
Furthermore, gone are the days of simply writing a prescription for an anti-glaucoma medication and sending it to a local retail pharmacy or a 90-day mail order pharmacy to be filled. It also seems that we are at an all-time high where clinicians need prior authorization or a coupon card in order to prescribe a branded glaucoma product cost-effectively. These cumbersome and time-consuming steps have led some manufacturers to develop the "direct pay" method. Xelpros and Sun Pharmaceuticals follow this method, as it offers the optometrist and the patient no prior authorizations, no coupon or coupon activation, no callbacks and prompt product fulfillment and refills. Sun Pharmaceuticals calls it "Xelpros Xpress" and is using Capstan and Transition as their partner pharmacies.12
Direct pay is now available to all patients, regardless of insurance coverage. Contracts between preferred pharmacies and pharmaceutical companies that supply medication allows medications to be sold at a set agreed-upon price. In other words, negotiation can now be between a drug manufacturer and the pharmacy rather than with managed care insurers.
This bypasses insurance benefits, and the patient is charged the set price regardless of coverage. Optometrists can also electronically prescribe or fax the prescription directly to a preferred pharmacy. Once received, the pharmacy contacts the patient to confirm mailing address and to establish a payment method. The medication is subsequently mailed to the patient, who also has the option for enrolling in an auto-refill program.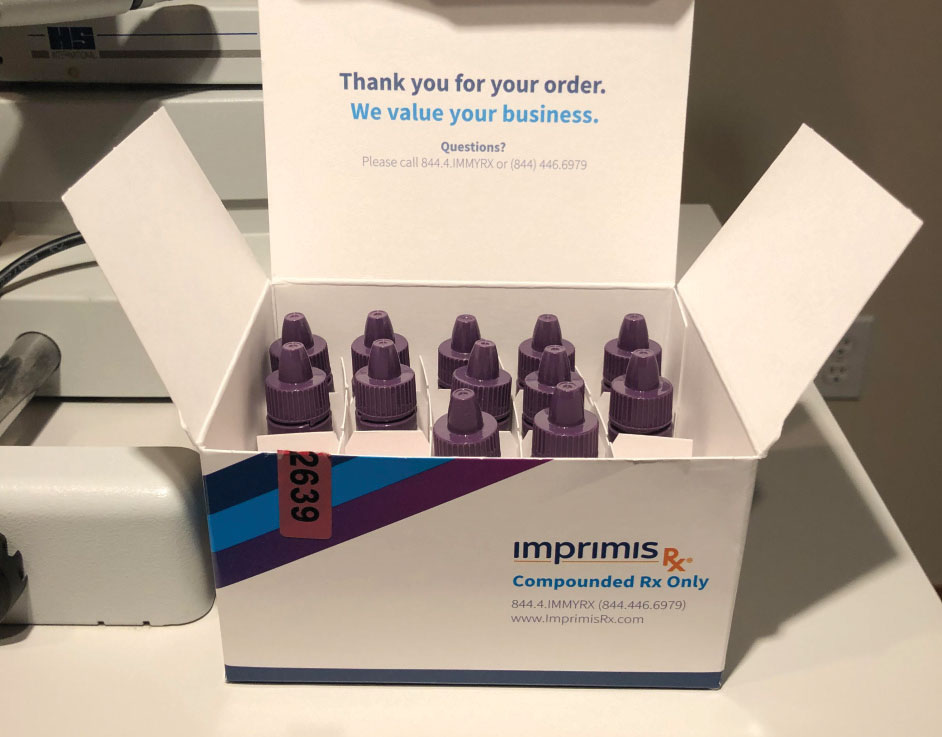 Compounding pharmacies, such as ImprimisRx, are limited to dispensing for home use.
Compounded Drugs
The expiration of patents and the subsequent development of numerous generic glaucoma therapies has led to compounding pharmacies to formulate "poly-generic" medications (i.e., products that contain multiple active ingredients). These companies target patients who need several different drugs in their therapeutic regimens.
Regulators have begun putting greater scrutiny on compounding pharmacies following incidents linked to poor oversight by state boards of pharmacy. The FDA has divided compounding pharmacies into two sectors: 503A and 503B.9 The FDA has designated 503A compounding pharmacies as those that compound according to prescriptions specific to particular patients and are required by state boards of pharmacy to comply with USP and other guidelines.9 These facilities are limited to dispensing only for home use and are not allowed to compound large batches.
The FDA has designated 503B compounding pharmacies as those with outsourcing facilities that may manufacture large batches with or without prescriptions to be sold to healthcare facilities for office use only.9 These pharmacies are allowed to use larger batches to lower their manufacturing costs, therefore passing the savings onto consumers. ImprimisRx is a 503A and 503B compound pharmacy providing glaucoma preparations as a 503A compounding pharmacy.13
The availability of numerous generic medications has allowed poly-generic therapy to evolve with two to four medications being placed into single bottles for patient convenience. To be sure, all medications used have been proven to reduce intraocular pressure (IOP) in clinical trials. There is, however, very limited information regarding how well these poly-generic medications work, particularly when compared with their single-ingredient equivalents. Going forward, this is surely an area of important comparison and study.9-11
Topical Newcomers
Vyzulta was FDA approved in November 2017. It is indicated for the once-daily management for the reduction of intraocular pressure (IOP) in patients with open-angle glaucoma or ocular hypertension. Vyzulta's mechanism of action works in two ways: It uses the uveoscleral pathway to increase aqueous humor outflow, and uses butanediol mononitrate to release nitric oxide (NO), which increases outflow through the trabecular meshwork and Schlemm's canal.14
The well-known prostaglandin analog side effects were reported and no new adverse events surfaced because of the butanediol mononitrate and release of nitric oxide. Reported ocular adverse events were similar to other prostaglandin analogs and included conjunctival hyperemia, eye irritation, eye pain and instillation site pain, increased pigmentation of the iris and periorbital tissue and growth of eyelashes.14
When Rhopressa was approved in December 2017, it broke the 23-year drought in the topical ophthalmic drug world, where no new or novel mechanisms of action were introduced. It is indicated for the treatment of glaucoma or ocular hypertension, which gives practitioners the ability to start treatment or use it in combination with other glaucoma medications.
Like Vyzulta, Rhopressa has once-per-day dosing, which is beneficial in noncompliance, a well-known problem in glaucoma treatment. Mechanistically, Rhopressa works in a novel way, primarily on the trabecular meshwork as a rho-kinase (ROCK) inhibitor. This novel molecule targets the actin and myosin in the trabecular meshwork. No systemic contraindications are known with Rhopressa. Ocular adverse events include conjunctival hyperemia (54.4%), corneal verticillate (20.9%) and conjunctival hemorrhage (17.2%).15
In clinical trials with Rhopressa, cornea verticillata was localized to the basal corneal epithelium, subjects were asymptomatic, and the onset ranged from six to 13 weeks.15 No reported cases of vision loss or reduced acuity with the cornea verticillata were reported.
Mechanistically, cornea verticillata occurs due to phospholipidosis and phospholipid accumulation, as in the case of amiodarone corneal whorls. Conjunctival hemorrhages were small petechial hemorrhages, and researchers now believe it to be more of a vasodilatory process.15 Rhopressa provides 4mm Hg to 5mm Hg IOP reduction in patients with high and low IOPs, which is great news, as it is inherently difficult to decrease low IOP. Clinical trials indicate that Rhopressa does a consistent job in lowering a low IOP, and, over a 12-month period, researchers noted no tachyphylaxis.15
Consider using as monotherapy in patients who:
Have concerns about the ocular side effects of prostaglandins.
Are intolerant to or have inadequate efficacy with prostaglandins.
Need or prefer alternative to beta blockers, alpha agonists, carbonic anhydrase inhibitors (CAIs).
Consider using in combination with:
A prostaglandin analog.
Other adjunctive agents.
Glaucoma surgery, when desired IOP is not achieved.
Xelpros, approved in September 2018, is indicated for the reduction of IOP in patients with open-angle glaucoma or ocular hypertension. Xelpros is the first latanoprost product not formulated with the preservative benzalkonium chloride and uses potassium sorbate 0.47% as the preservative instead.17 Research shows it can reduce IOP in patients with open-angle glaucoma and ocular hypertension up to a mean of 6mm Hg to 8mm Hg in randomized clinical trials.16 Benzalkonium chloride can be a great preservative for multidose bottles but may also contribute to ocular surface disease.
The hope is that this formulation will help support the ocular surface, as long-term medical therapy with drugs poses this challenge for the patient and practitioner.17 Xelpros is not available at pharmacies, as it is only available by the "direct pay" method as discussed previously.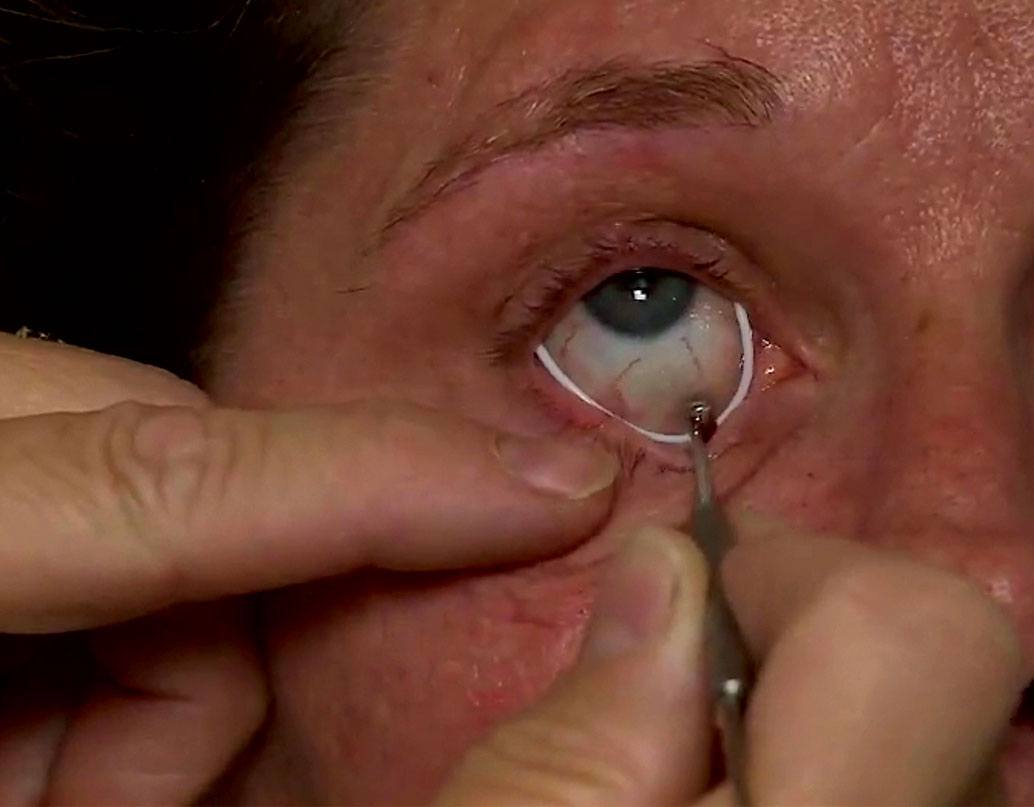 A single administration of the bimatroprost-laden ring implant provided sustained reduction of IOP in its Phase III trial.
Clinical Trials
Rocklatan (netarsudil/latanoprost ophthalmic solution) 0.02%/0.005% by Aerie pharmaceuticals may be our next non-beta blocker fixed combination drop as the Prescription Drug User Fee ACT (PDUFA) date is set for this month. This once-daily drop is the first prostaglandin combination drop recently approved in the United States.18 This formulation has a great potential by coupling the powerful IOP lowering of latanoprost with the additional lowering of a low IOP ability of netarsudil.19
Implants and Injectables
Noncompliance is well-known as a problem in topical glaucoma care and is a key factor for the progression of glaucoma.1,2 Research and development are occurring at all levels of glaucoma treatment to reduce the burden of eye drops. Sustained release modalities are in clinical trials to help address this well-known problem.
Phase III. Allergan is taking on the challenge by working on the Bimatoprost SR (sustained release) implant. This biodegradable implant is undergoing a Phase III clinical trial with its indication for IOP lowering for patients with primary open-angle glaucoma (POAG) or ocular hypertension. This implant is injected into the anterior chamber. Results recently released by Allergan show a 30% reduced IOP over a 12-week primary efficacy period and met predefined criteria for noninferiority to the comparator timolol.20 This implant is designed to lower IOP for four months and seems to be well-tolerated thus far.19 Allergan plans to file a new drug application most likely in the second half of 2019.
In an external approach to sustained release, Allergan acquired from ForSight Labs a compliant bimatoprost-laden ring (formerly called Helios), which sits in the ocular fornices. Based upon its comparatively large size, high quantities of medication and multiple drugs can be placed in a single device. Retention and comfort seem to be fairly good with this product, with an approximated 20% IOP reduction.21
Phase II. Glaukos, known for the iStent and iStent inject MIGS procedures, is currently investigating a travoprost-eluting intratrabecular implant. Slated for 2021-2022, iDose Travoprost is a titanium implant (1.8mm x 0.5mm) designed for continuous drug delivery directly into anterior chamber. The implant is filled with a novel and reportedly potent formulation of travoprost delivered via membrane-controlled Fickian elution once it is implanted. This injectable procedure is anchored in place and facilitates straightforward exchange upon drug depletion.
Another external platform for sustained release involves an intracanalicular punctum plug-based sustained-release drug system for the prostaglandin analog, travoprost (OTX-TP; Ocular Therapeutics). In clinical studies, the sustained-release OTX-TP was able to reduce IOP by 24% at day 10 (with nearly 90% of plugs still in place) and 15.6% at day 30 (but with only 42% of plugs still retained).22
Continuous-release device. Amorphex has developed the Topical Ophthalmic Drug Delivery Device (TODDD), a soft structure that can deliver drug to the eye continuously, around the clock for multiple months without interruption. The patient wears the TODDD under their eyelid and is replaced at prescribed intervals of weeks to months, depending on the condition being treated.23 This non-invasive technology is attempting to solve the challenges of repetitious daily eye drop dosing, as well as difficulties with drop instillation, partial dosing, daily forgetfulness and continuing adherence to therapy.22 Amorphex has timolol and timolol/prostaglandin in the pipeline.23
Looking Forward
The question remains as to whether patients will accept sustained drug delivery devices despite the apparent improvement in adherence to therapy. One recent report administered electronic surveys to 150 patients at two glaucoma clinics.24 Participants were questioned on their willingness to accept: drug-eluting contact lenses, ring inserts, punctal plugs and subconjunctival injections as alternatives to IOP-lowering eye drops based on various success levels. Most glaucoma patients considered sustained drug-delivery modalities acceptable alternatives to IOP-lowering eye drops, but only could obviate surgery or demonstrate greater efficacy than eye drops.25
Overall, the past two years have brought about great change in the world of glaucoma treatment. Not only do we have novel mechanisms of action in the drug side of treatment, but we have the benefit of gaining experience, as laser therapies and minimally-invasive procedures become more prevalent. Additionally, sustained release inserts offer a new and exciting opportunity to improve compliance in patients with glaucoma.
Dr. Sowka is on advisory boards for Glaukos and Bausch + Lomb.
Dr. Caldwell is an ocular disease consultant in Duncansville, PA, and a past president of the Pennsylvania Optometric Association.
Dr. Offerdahl is an assistant professor of biomedicine at Salus University.
Dr. Sowka is chief of advanced care and director of the glaucoma service at Nova Southeastern University College of Optometry.
1. Jonas JB, Aung T, Bourne RB, et al. Glaucoma. Lancet. 2017;390(10108):2183-93.
2. Conlon R, Saheb H, Ahmed IIK. Glaucoma treatment trends: a review. Can J of Ophthamol, 2017;52(1): 114-24.
3. Hoy SM. Netarsudil ophthalmic solution 0.02%: first global approval. Drugs. 2018;78(3):389-96.
4. Kaufman MB. Pharmaceutical approval update. P T. 2018;43(1):22-60.
5. Brooks M. FDA clears new form of latanoprost (Xelpros) for glaucoma. Medscape. www.medscape.com/viewarticle/902233. Published September 19, 2018. Accessed February 3, 2019.
6. Kahook MY. Branded vs. generic: Proceed with caution. Review of Ophthalmology. 2014;21(4):94-97.
7. Chalmers WA. Ophthalmic generics-are they really the same?. Ophthalmology. 2012;119(6):1095-6.
8. Shovlin JP. Generic drugs: More than meets the eye? RCCL. 2015;Nov/Dec:6-7.
9. 503A vs. 503B: a quick-guide to compounding pharmacy designations & regulations. The FDA Group. www.thefdagroup.com/thefdgroup-blog/503a-vs-503b-compounding-pharmacies. October 12, 2017. Accessed February 3, 2019.
10. Food and Drug Administration. CFR–Code of Federal Regulations Title 21. www.accessdata.fda.gov/scripts/cdrh/cfdocs/cfcfr/cfrsearch.cfm?fr=314.94. Last updated April 1, 2018. Accessed February 3, 2019.
11. Food and Drug Administration. Current good manufacturing practice (CGMP) regulations. www.fda.gov/drugs/developmentapprovalprocess/manufacturing/ucm090016.htm. Accessed February 3, 2019.
12. Access and order Xelpros. Xelpros. xelpros.com/access/. Accessed February 3, 2019.
13. ImprimisRX. About us: company overview. www.imprimisrx.com/about-us/company-overview/. Accessed February 3, 2019.
14. Kaufman PL. Latanoprostene bunod ophthalmic solution 0.024% for IOP lowering in glaucoma and ocular hypertension. Expert Opin Pharmacother. 2017;18(4):433-44.
15. Kopczynski CC, Heah T. Netarsudil ophthalmic solution 0.02% for the treatment of patients with open-angle glaucoma or ocular hypertension. Drugs Today (Barc). 2018;54(8):467-78.
16. Sun Pharma and SPARC announce US FDA approval of Xelpros to treat open-angle glaucoma or ocular hypertension [press release]. Princeton, NJ: Sun Pharmaceutical Industries. www.sunpharma.com/media/press-releases/press%20release%20USFDA%20approval%20of%20XELPROS.pdf. September 14, 2018. Accessed February 3, 2019.
17. Pérez-Bartolomé F, Martínez-de-la-Casa JM, Arriola-Villalobos P. Ocular surface disease in patients under topical treatment for glaucoma. Eur J Ophthalmol. 2017;27(6):694-704.

18. Aerie Pharmaceuticals announces United States FDA approval of Rocklatan (netarsudil and latanoprost ophthalmic solution) 0.02%/0.005% for the reduction of intraocular pressure in patients with open-angle glaucoma or ocular hypertension [press release]. Aerie Pharmaceuticals. investors.aeriepharma.com/news-releases/news-release-details/aerie-pharmaceuticals-announces-us-fda-approval-rocklatantm. March 12, 2019. Accessed March 13, 2019.
19. Lewis RA, Levy B, Ramirez N, et al. Fixed-dose combination of AR-13324 and latanoprost: a double-masked, 28-day, randomized, controlled study in patients with open-angle glaucoma or ocular hypertension. Br J Ophthalmol. 2016;100(3):339-44.
20. Lewis RA, Christie WC, Day DG, et al; Bimatoprost SR Study Group. Bimatoprost sustained-release implants for glaucoma therapy: 6-month results from a phase I/II clinical trial. Am J Ophthalmol. 2017;175:137-47.
21. Brandt JD, DuBiner HB, Benza R, et al. Long-term safety and efficacy of a sustained-release bimatoprost ocular ring. Ophthalmology. 2017;124(10):1565-6.
22. Glaukos Corporation's iDose travosprost achieves sustained IOP reduction and favorable safety profile in 12-month interim cohort [press release]. Glaukos. investors.glaukos.com/investors/press-releases/press-release-details/2018/Glaukos-Corporations-iDose-Travoprost-Achieves-Sustained-IOP-Reduction-and-Favorable-Safety-Profile-in-12-Month-Interim-Cohort/default.aspx. January 10, 2018. Accessed February 3, 2019.
23. Perera SA, Ting DS, Nongpiur ME, et al. Feasibility study of sustained-release travoprost punctum plug for intraocular pressure reduction in an Asian population. Clin Ophthalmol. 2016;10:757-64.
24. Amorphex Therapeutics. Platform technology for ocular drug delivery. www.amorphexusa.com/. Accessed February 3, 2019.
25. Varadaraj V, Kahook MY, Ramulu PY, Pitha IF. Patient acceptance of sustained glaucoma treatment strategies. J Glaucoma. 2018;27(4):328-35.