History
A 67-year-old black female was brought to the office because her family felt her left eye was "shrinking." The patient explained that the eye had been injured a number of years ago and that she also had a history of infection in the cornea, for which she had been hospitalized. Since the injury, the eye had lost its vision and only became painful after the corneal infection. She explained she used drops for a while but had stopped them herself when they became too expensive to afford and the pain stopped. Her systemic history was remarkable for hypertension, diabetes and dyslipidemia, which were all controlled medically. She denied allergies of any kind.
Diagnostic Data
Her best-corrected entering visual acuities were 20/40 OD at distance, 20/25 OD at near. She had no light perception in her left eye. The external examination of her eye is demonstrated in the photograph. We did detect an afferent pupil defect in the left eye, seen using the indirect technique (the right eye dilated when the light was placed in front of the left eye). Her refraction was stable and measured +1.00/+3.00 OD. Confrontation visual fields for her right eye were normal.
The biomicroscopic examination of the anterior segment of her right eye was also normal and showed no evidence of iris neovascularization. The left eye demonstrated dense corneal opacity, elements of band keratopathy, a large central corneal depression with evidence of tissue thinning, a flat anterior chamber and evidence of old hyphema. Goldmann applanation tonometry measured 15mm Hg OD and 4mm Hg OS. The dilated examination of the patient's right eye was normal and demonstrated no evidence of peripheral pathologies. However, it was not possible to get a view of the left eye.
Your Diagnosis
Does the case presented require any additional tests, history or information? What steps would you take to manage this patient? Based on the information provided, what would be your diagnosis? What is the patient's most likely prognosis?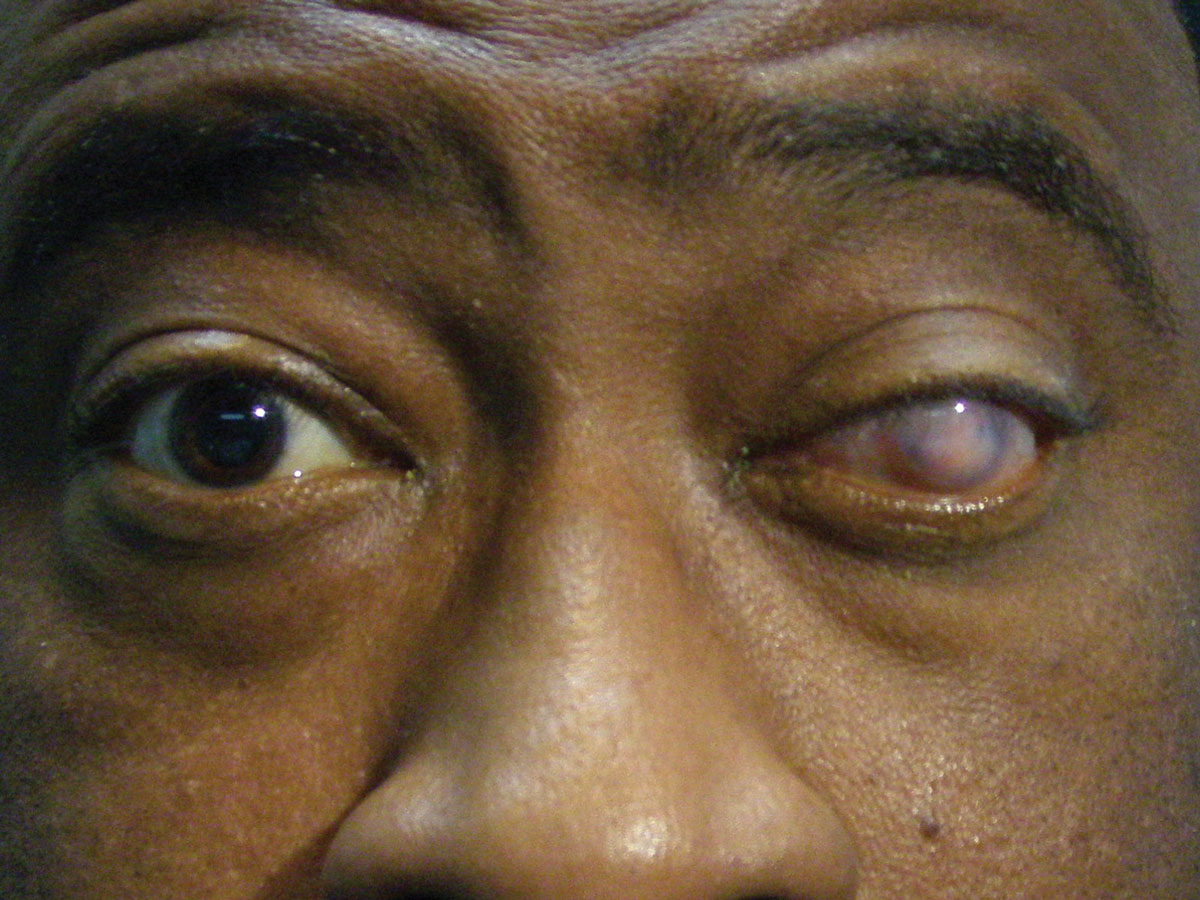 This 67-year-old woman is blind in her left eye, but her family was concerned that the eye itself was shrinking. Can this external examination help explain her condition?
Click to enlarge.
Discussion
Additional studies included corneal sensitivity to insure the eye was pain free, B-scan ultrasonography to assess the posterior segment for additional pathology, photodocumentation and petition for old records from previous practitioners.
The diagnosis in this issue is class IIa phthsis bulbi (PB). PB is an ocular condition defined by atrophy and disorganization of the intraocular structures leading to a soft and anatomically disfigured, shrunken eyeball.1-3 The term "phthisis bulbi" is derived from the Greek word phthiein meaning shrinkage or consuming.3 In the ophthalmic community, ocular atrophy and phthisis bulbi connote consecutive stages in the degeneration process of a severely damaged eye.3,4 The process is often set into motion following an event of blunt or penetrating trauma with catastrophic functional and anatomic consequences.1-9 The condition is known to develop in eyes experiencing a protracted non-remitting inflammatory course.1-8 The condition may also occur following tissue failures proceeding from tumor, ischemia, complications from cataract surgery, infection, rampant proliferative retinopathy, complicated retinal detachment and oculo-inflammatory disease.1-13
The condition itself has no symptoms per se. The diagnosis is a term given to the end-stage degeneration of the globe and its contents.1-12 The first classification system of phthisis bulbi was based on observed structural changes:
ocular atrophy without shrinkage,

with shrinkage and

with shrinkage and disorganization.

4
The classification system has since been modified to include the amount and description of the cosmetic complications: (Ia) Corneal opacity with no enophthalmos and normal sclera without corneal sensitivity, (Ib) Corneal opacity with no enophthalmos and normal sclera with corneal sensitivity, (IIa) Corneal opacity with mild enophthalmos and normal sclera without corneal sensitivity, (IIb) Corneal opacity with mild enophthalmos and normal sclera with corneal sensitivity, (III) Moderate enophthalmos with disfigured sclera and (IV) Severe enophthalmos with disfigured sclera and loss of orbital fat.3
The symptoms that are experienced during the chronic process are related to the underlying cause and the inflammation it is producing (pain, severe vision loss) the eye is failing after the fact.1-11 Symptoms also include loss of color perception and loss of acuity. Signs include enophthalmos, variable ossification of ocular stuctures, variable injection of the conjunctiva, corneal-scleral sequelae, such as sclerocornea and the formation of band keratopathy. Other signs that accompany the degeneration include worsening of the anterior segment complications that preceded the collapse (diminished anterior chamber, iris neovascularization, hypoyon uveitis, hyphema, posterior synechiae, peripheral anterior synechiae).1,2,5-12 Similar signs may be visible in the posterior segment (if a view is obtainable). In the beginning stages, dense vitritis, vitreous hemorrhage, massive intraretinal exudation, florid proliferative retinopathy, choroidal rupture, subretinal hemorrhage or signs of tumor (choroidal folds) may be seen.14-16
PB can be provoked following any instance where normal neurology, cytokines and chemo-attractants, responsible for routine ocular homeostatic signals are interrupted.17,18 The condition itself is enigmatic, usually beginning as errant wound healing.17,18 Here, a runaway cascade of tissue reactions is seen similar to other aggressive inflammatory wound healing scenarios elsewhere in the body. What makes the PB reaction unique is that tractional changes are induced by fibroproliferative mechanisms set off by exposure to intraocular bleeding.17,18 Wound or injury bleeding induces fibro-ingrowth creating mechanical forces on adjacent structures perpetuating the course.17,18 Ocular hypotensive induction is another factor. This provokes an environment of ischemia which is a critical player in the pathology.17 PB reactions reach a plateau within the first 3 months, but can go on for years.17 Cell proliferation and transformation are important features of the process which eventually culminate in retinal and ciliochoroidal detachment, hypotension and marked shrinkage of the globe.17 Research has demonstrated that the PB reaction is frequently initiated by intraocular hemorrhage.17,18 The process has been termed by experts as an "intraocular fluoride proliferative reaction".17 The prominent areas of this proliferative reaction center in the pars plana, the optic disc and the base of the iris.17
The management of PB is routed in maintaining patient comfort and slowing the degenerative process. Cycloplegic medications such as atropine 1% QD-BID, topical steroids and topical nonsteroidal anti-inflammatory medication QD-QID are all topical options. Topical artificial tear drops and ointments can provide lubrication and soothing comfort. Oral analgesics can also be prescribed if no systemic contraindications exist. If the phthisical eye has visual ability in the setting of a failed fellow eye, low vision rehabilitation can be attempted.19 Scleral cosmetic contact lenses can be fitted with or without surgical resection of the conjunctiva so long as the enophthalmos is not significant.3,19 Some patients report irritation from the lenses with decreased wear time. The surgical resection is designed to create a protective flap (mucous membrane vs. Gunderson flap), covering sensitive corneas, improving function and comfort.20,21 If the enopthalmos is significant, a spacer can be implanted with the contact subsequently fitted over top.3 When the eye is painful evisceration or enucleation can be suggested.22-25 Since evisceration leaves the scleral shell with extraocular muscle connections intact, a well-designed prosthesis can move naturally, creating an excellent cosmetic result.22-25 While the thought of evisceration may conjure an association with sympathetic ophthalmia, the risk is actually quite small.25 Enucleation is defined as the removal of the entire globe, typically with placement of a hydroxy appetite spacer or simple sphere implant to build orbital volume in the stead of the removed eye.24 The procedure yields less complications but provides little control over a topical glass or plastic prosthesis.24
Clinicians encountering individuals that have undergone these procedures should be familiar with removal and replacement of the prosthesis. This will permit the remaining ocular contents to be examined and maintained. It will also permit examination of the prosthetic to insure quality, proper placement and integrity. In both of these instances, orbital implant movement, flap and spacer tissue erosion and chronic mucous formation or conjunctival infection are plausible.
Retrobulbar alcohol injection remains a possibility for patients with blind, painful eyes.26 However, the procedure is rarely suggested today. The procedure is painful, inconsistent in removing pain, when it works its effect is often only temporary with repeat injections necessary and the agent shrinks the orbital fat it contacts increasing the enophthalmic posture. Today, it is only recommended for patients in persistent pain who cannot overcome the thought of losing their eye (evisceration/enucleation).26
Additional projects have been commissioned to develop control for the causative biochemical etiology.17
The patient and her family were educated to the condition, advised to wear full time polycarbonate spectacles to maximize vision and provide protection for the good eye and were provided four options for the pathologic OS:
The "If it's not broke don't fix it" option which was, topical lubrication with drops and ointments during the day and night and so long as there was no pain or further breakdown, monitoring.

Topical anti-inflammatory preventative treatment with atropine 1% and prednisolone acetate 1% BID, along with the topical lubrication.

Enucleation.

Cosmetic contact lens fitting in addition to the lubrication.
The patient so far has done well with option number one.
Naveen HC, Porwal A, Nelogi S. Prosthetic rehabilitation of phthisis bulbi by digital imaging technique--a case report. Cont Lens Anterior Eye. 2010;33(5):231-4.
Tan LT, Isa H, Lightman S, Taylor SRJ. Prevalence and causes of phthisis bulbi in a uveitis clinic. Acta Ophthalmologica 2012;90(5):e417-18.
Aggarwal H, Singh RD, Kumar P, et al. Prosthetic guidelines for ocular rehabilitation in patients with phthisis bulbi: A treatment-based classification system. J Prosthet Dent. 2014;1(1);pii: S0022-3913(13)00320-X.
Hogan MJ, Zimmerman LE. Phthisis bulbi. In Hogan MJ, Zimmerman LE Eds. Ophthalmic pathology. An atlas and textbook, 2nd ed. Philadelphia, PA, WB Saunders, 1962:168-221.
Semba RD, Bloem MW. Measles blindness. Surv Ophthalmol. 2004;49(2):243-55.
Ostler HB, Thygeson P. The ocular manifestations of herpes zoster, varicella, infectious mononucleosis, and cytomegalovirus disease. Surv Ophthalmol. 1976;21(2):148-59.
Kim PS, Choi CW, Yang YS. Outcome and significance of silicone oil tamponade in patients with chronic serous retinal detachment. Korean J Ophthalmol. 2014;28(1):26-31.
Coşkun M, Ataş M, Akal A, et al. The factors affecting the development of phthisis bulbi after penetrating eye injuries. Ulus Travma Acil Cerrahi Derg. 2012;18(4):317-20.
Huamont FU, Peyman GA, Goldberg MF. Complicated retinal detachment and its management with pars plana vitrectomy.Br J Ophthalmol. 1977;61(12):754-60.
Hadjistilianou T, De Francesco S, Marconcini S et al. Phthisis bulbi and buphthalmos as presenting signs of retinoblastoma: A report of two cases and literature reviewEuropean Journal of Ophthalmology 2006;16(3):465-469.
Mullaney PB, Karcioglu ZA, Al-Mesfer S, Abboud EBPresentation of retinoblastoma as phthisis bulbi. Eye.1997;11(1)403–408.
Vemuganti GK, Honavar SG, Jalali S. Intraocular osseous metaplasia. A clinico-pathological study. Indian J Ophthalmol. 2002;50(3):183-8.
Limaiem R, Merdassi A, Lahdhiri, et al. Orbital cellulitis and endophthalmitis after cataract surgery. Bull Soc Belge Ophtalmol. 2008;(309-310):27-30.
Phillips BN, Chun DW, Colyer M. Closed globe macular injuries after blasts in combat. Retina. 2013;33(2):371-9.
Kashyap S, Meel R, Pushker N,et al. Phthisis bulbi in retinoblastoma. Clin Experiment Ophthalmol. 2011;39(2):105-10.
Qureshi UA, Wani NA, Altaf U. Parry-Romberg syndrome associated with unusual intracranial vascular malformations and Phthisis bulbi. J Neurol Sci. 2010;15;291(1-2):107-9.
Stefani FH. Phthisis bulbi--an intraocular fluoride proliferative reaction. Dev Ophthalmol. 1985;10 (1):78-160.
Kreiger AE. Wound complications in pars plana vitrectomy. Retina. 1993;13(4):335-44.
Froiman PC, Villas Bôas Júnior CE, et al. Visual rehabilitation in pre phthisis bulbi's patient: case report. Arq Bras Oftalmol. 2009;72(4):540-2.
Ding J, Chen T, Hou Z, et al. Cosmetic shell fitting over a sensitive cornea in mild phthisis bulbi using total conjunctival flap. Aesthetic Plast Surg. 2013;37(2):398-401.
Ma'luf RN, Awwad ST. Mucous membrane graft versus Gunderson conjunctival flap for fitting a scleral shell over a sensitive cornea. Ophthal Plast Reconstr Surg. 2005;21(5):356-8.
Georgescu D, Vagefi MR, Yang CC, et al. Evisceration with equatorial sclerotomy for phthisis bulbi and microphthalmos. Ophthal Plast Reconstr Surg. 2010;26(3):165-7.
Aggarwal H, Singh RD, Kumar P, et al. Prosthetic guidelines for ocular rehabilitation in patients with phthisis bulbi: A treatment-based classification system. J Prosthet Dent. 2014; S0022-3913(13)00320.
Tanenbaum M. Enucleation, eviseraction and exenteration. In: Yanoff M, Duker JS. Ophthalmology. Mosby-Elsevier, St. Loius, MO 2009:752-760.
Zheng C, Wu AY. Enucleation versus evisceration in ocular trauma: a retrospective review and study of current literature. Orbit. 2013;32(6):356-61.
al-Faran MF, al-Omar OM. Retrobulbar alcohol injection in blind painful eyes. Ann Ophthalmol. 1990;22(12):460-2.