History
A 67-year-old black female reported to the office with a chief complaint of blurry vision at near, as well as facial skin lesions. She asked if there was any medication that could improve her skin cosmesis. Her systemic history was remarkable for hypetension, diabetes and dyslipidemia, which was well controlled medically with lisinopril, metformin and a statin, respectively.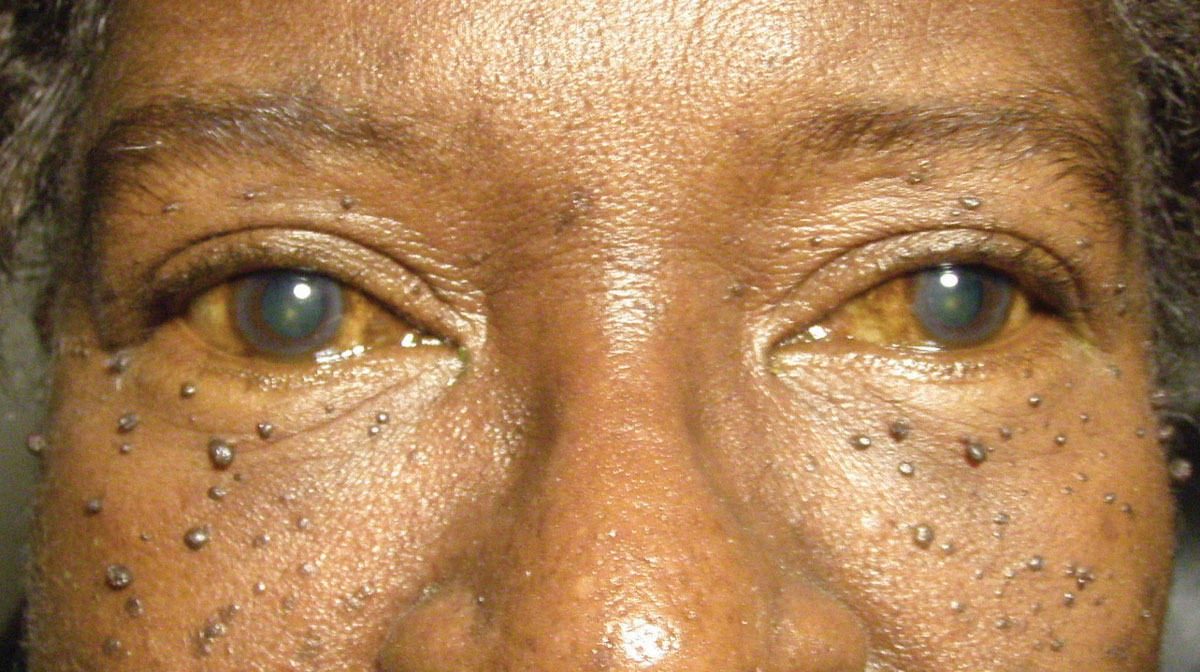 This 67-year-old woman is suffering from both skin lesions and blurry vision. Can you identify the cause of her visual disturbances? Click to enlarge.
Diagnostic Data
Her best-corrected entering visual acuities were 20/20 OD and OS at distance and 20/30 at near. Her near acuity was improved by increasing her add power and ensuring she was holding the print within the correct focal region of her progressive addition lenses. Her external examination was normal. The skin condition is illustrated in the photograph. The biomicroscopic examination of the anterior segment was normal with Goldmann applanation tonometry measured at 15mm Hg OU. The dilated fundus examination of the posterior pole revealed optic nerves with cup-to-disc ratios measuring 0.3/0.3 and no peripheral pathologies OU.
Discussion
Additional studies included history questions regarding their own and family experience with malignant disease, history regarding updated blood work and colonoscopy and photdocumentation of the skin condition.
The diagnosis in this issue is dermatosis papulosa nigrans or nigra (DPN). DPN is a chronic follicular nevoid condition characterized by verrucous hyperpigmented papules on the face, neck and upper trunk.1-3 It considered to be a benign nevoid tumor, a variant of seborrheic keratosis (SK), commonly seen in the adult, aging African population exhibiting a slight preponderance for females over males.1-4 It is also commonly seen in races of darker skin pigmentation.1-5 The course of the dermatologic breakout is chronic and often worstening.5
There are six subtypes of SK: dermatosis papulosa nigra, stucco keratosis, inverted follicular keratosis, large cell acanthoma, lichenoid keratosis and flat seborrheic keratosis.6 Although the etiology and pathogenesis of the SKs are still under investigation, several underlying mechanisms and contributing factors have been identified. All subtypes represent benign lesions, and treatment is usually done for cosmetic reasons.6 An important point is that several of the subtypes may act as cutaneous markers for internal malignancy.6,7 All of these skin abnormalities should be monitored closely for any changes and precipitate a referral to an expert for an official opinion.6,7
While rare, the condition can be seen in younger individuals.1 Cutaneous hyperpigmentations in general are leading documented cause of all dermatological consultations in the United States (10%).3,8 They can be congenital, with a pattern of inheritance or acquired as a consequence of systemic disease or from exposures to the environment or substances.8,9 The vast majority of them are linked to alterations on the pigment melanin, induced by differing mechanisms.8 If necessary, biopsy can be used to confirm the diagnosis; showing parakeratosis, acanthosis, hyperpigmentation with thick interwoven tracts of epithelial cells and horn cysts.9
While ongoing, research results have indicated that the fibroblast growth factor receptor-3 (FGFR3) and phosphatidylinositol-4,5-bisphosphate3-kinase catalytic subunit-alpha (PIK3CA) mutations are involved in the pathogenesis of both SK and DPN.7,10 These molecular genetic findings support the concept that both skin lesions are specific variants of seborrhoeic keratosis, sharing a common genetic background.7,10
Treatment options include cryosurgery, curettage, electrosurgery, and shave removal.4
We educated the patient to the name of the condition. They explained condition had started in their 20s and never caused symptoms. We also asked about their personal and family history with respect to malignant disease. We queried if their blood work was up to date and asked when their last colonoscopy was done.
Since the patient was not upset by their appearance we educated them to self-monitor for changes in the size, shape, number, appearance and color of the lesions; reporting to us or their dermatologist immediately if fluctuations were occurring. We also recommended, that if not already done, a dermatologic examination be completed.
1. Babapour R, Leach J, Levy H. Dermatosis papulosa nigra in a young child. Pediatr Dermatol. 1993;10(4):356-8.
2. Bruscino N, Conti R, Campolmi P, et al. Dermatosis Papulosa Nigra and 10,600-nm CO2 laser, a good choice. J Cosmet Laser Ther. 2014;16(3):114-6.
3. Schweiger ES, Kwasniak L, Aires DJ. Treatment of dermatosis papulosa nigra with a 1064 nm Nd:YAG laser: report of two cases.J Cosmet Laser Ther. 2008;10(2):120-2.
4. Garcia MS, Azari R, Eisen DB. Treatment of dermatosis papulosa nigra in 10 patients: a comparison trial of electrodesiccation, pulsed dye laser, and curettage. Dermatol Surg. 2010;36(12):1968-72.
5. Calcaterra R, Franco G, Valenzano M, Clinical features and treatment of dermatosis papulosa nigra in migrants to Italy. Skinmed. 2010;8(4):207-9.
6. Noiles K, Vender R. Are all seborrheic keratoses benign? Review of the typical lesion and its variants. J Cutan Med Surg. 2008;12(5):203-10.
7. Blomberg M, Jeppesen EM, Skovby F, Benfeldt E. FGFR3 mutations and the skin: report of a patient with a FGFR3 gene mutation, acanthosis nigricans, hypochondroplasia and hyperinsulinemia and review of the literature. Dermatology. 2010;220(4):297-305.
8. Cestari TF, Dantas LP, Boza JC. Acquired hyperpigmentations. An Bras Dermatol. 2014;89(1):11-25.
9. Schwartzberg JB, Ricotti CA Jr, Ballard CJ, Nouri K. Eruptive dermatosis papulosa nigra as a possible sign of internal malignancy. Int J Dermatol. 2007;46(2):186-7.
10. Hafner C, Landthaler M, Mentzel T, Vogt T. FGFR3 and PIK3CA mutations in stucco keratosis and dermatosis papulosa nigra. Br J Dermatol. 2010;162(3):508-12.