Health care continues to trend toward outpatient services and specialty inpatient consults to best serve patients with more efficient diagnoses and treatments. By adding optometry to the list of outpatient services, both hospital physicians and patients benefit from the continuity of medical eye care, networking and referral opportunities; they also benefit from the specialized ocular knowledge that most general hospitalists and emergency department (ED) physicians often lack confidence in.
Unfortunately, few ODs go through the hassle of obtaining hospital privileges to serve this patient population—and miss out on a significant practice builder. These tips, and our practice's unique experience, can prepare you to delve into hospital-based care and boost patient loyalty and your practice's bottom line.
Drs. Legge (left) and Corbin (right) are a welcome sight at Penn State Health St. Joseph Medical Center, where they provide much-needed eye care to ED and admitted patients alike.
ODs in Hospitals: A Good Fit
Private optometrists and optometry practices have a lot to gain from hospital privileges. Optometrists perform nearly 70% of the primary eye care examinations in the United States, making us the most appropriate eye care provider for this setting.1 Most ED or inpatient cases for which a hospital seeks an eye care physician consult include problems optometrists see routinely in private practice: flashes and floaters, diplopia, corneal foreign bodies and abrasions, headaches, eye pain and irritation, blurred vision and loss of vision, to name only a few. In our practice's experience, approximately 98% of cases we consult on are within optometry's scope of practice. Cases that we cannot manage often involve ocular trauma for which sutures or surgeries are necessary. Hospital privileges increase patient access to your practice and help broaden your scope of practice to include significantly more medical eye emergencies, urgencies and examinations. Here are just a few of the benefits our practice has enjoyed:
Revenue booster. The most apparent benefit to having hospital privileges is an increase in patient census. As consulting optometrists, we bill insurances directly for the services we provide in the ED or for inpatient consults. Each patient we see contributes direct revenue to our practice. However, we do not participate with every medical insurance that the hospital does, so in some cases we write off the charges as a courtesy because of our hospital staff status.
We provide care in the ED when contacted outside of our normal office hours, and the ED sends patients to our office during regular hours. Furthermore, many hospitals have urgent care facilities that also act as direct sources of referral for our practice, as urgent care providers almost always refer to a hospital-credentialed doctor when specialty referrals are required. Because many of these patients have chronic eye conditions, the number of exams per year per patient increases, as does in-office diagnostic testing frequency.
Patients seeking urgent care greatly appreciate our services, whether provided after hours or during an inpatient consult. Often, our prompt response to an inpatient consult request leads to a quicker discharge. Taking care of these patients in desperate need builds an immediate doctor-patient relationship, and we estimate more than 70% of these patients return to us for routine care and become loyal to our practice.
Profession elevator. An unexpected benefit was the enhanced perception of optometry within our local medical community. We had some initial hesitation about how our directives would be followed by hospital physicians educated alongside ophthalmologists. Luckily, we have yet to encounter a case where the hospitalist or ED physician knows more about an eye condition than we do. It has been an excellent opportunity to educate the doctors, hospital staff and medical and nursing students at each patient encounter. With limited ophthalmic knowledge, they appreciate our services and immediate response to their patient's needs. Because we have been so well received, we now have regular rotations of med students and residents, as well as physicians asking to observe and learn from us during clinical encounters.
As we continue to gain respect at the hospital, a significant percentage of the doctors, nurses and staff have become patients at our practice. This has furthered our opportunity to educate the medical community about optometry by exposing them to our advanced diagnostic instruments and specialty testing and services that are not visible in the hospital setting. In addition to gaining new patients, we have become widely recognized in the medical community as an integral part of the health care team. Our names and practice information are listed as Accountable Care Organization (ACO) affiliates and Allied Professional Staff on the hospital website and in advertisements, which provides additional avenues for new patients to find our practice.
Procedural enhancements. Once we became affiliated with the hospital, we quickly recognized opportunities to improve the overall quality of care for patients. The most important initial change we helped implement was to the hospital's surgical procedure protocol. Because we were seeing so many inpatient emergencies for exposure keratitis after lengthy surgical procedures, we helped the Dept. of Anesthesia modify the pre-surgical protocol to include the application of ophthalmic ointment for any patient undergoing general anesthesia. We also helped educate the medical staff on lagophthalmos during prolonged procedures and the importance of taping the eyelids shut if necessary.
Since initiating these changes, we rarely encounter patients with eye pain and blurred vision after recovering from a general anesthesia procedure.
Improved comanagement. Our personal interactions with general physicians and specialists have created an easy inter-office referral system for rheumatology, neurology, infectious disease, endocrinology, primary care and any number of other specialties. We provide prompt appointments for patients they refer to us with well-received reports and communication. Hospital privileges also give us easy access to our own patients who need hospital admittance, as well as the ability to continue to comanage their care while they are there. We can place STAT orders and view results of imaging, labs and other physician reports through remote access to the hospital's electronic medical records.
Beware the Pitfalls
A few obstacles and perceived downsides exist to obtaining hospital privileges. It may be challenging to achieve if your local hospital does not have the bylaws in place for optometry. Without these in place, the credentialing process may seem intimidating, but it is not impossible and is well worth the investment.
The two most obvious drawbacks once your practice has hospital privileges include: (1) the need to provide on-call care after hours and on weekends and (2) writing off examinations or procedures for insurances the hospital participates with that you don't. But, as our practice demonstrates, the pros greatly outweigh the cons.
Our Story
In 2007, the CEO of our hospital was a patient at our practice. He expressed concern over not having reliable eye care physicians for emergency calls and inpatient consults because the local ophthalmologists were already providing on-call care for another hospital.
We quickly recognized the opportunity for optometry and our practice and began evaluating the hospital bylaws, which categorize and specifically define staff sections or levels. Each type of physician must be defined and included in a specific category to have privileges. Our local hospital did not include credentialing optometrists for staff privileges. This then required us, along with a sponsor, to request a bylaw amendment to allow optometrists to seek hospital privileges—a process that took us approximately nine months.2 Then, we were eligible to apply for comprehensive privileges consistent with our full scope of optometric practice.
The application process can be time consuming and requires submission of your CV, licenses and references. Our local hospital has a Section of Ophthalmology under the Dept. of Surgery, and optometry fell under the category of allied health professional staff within the Dept. of Surgery, similar to ophthalmology. Thus, we filed formal applications for each of the doctors at our practice to obtain privileges. The change to the hospital bylaws to include optometry was not specific to our practice, and any OD in the area who desired to obtain hospital privileges could apply.
Once we were approved as hospital affiliates, we were assigned a physician liaison who educated us on hospital procedures and protocols, gave us a tour of the facilities and provided ongoing assistance.
The first few times we were called to the ED to see patients were challenging because we hadn't worked in direct coordination with the full team in a hospital setting. To our surprise, we were welcomed by the physicians and staff without bias. The ED physicians had limited knowledge of ocular disease and were even less confident in managing eye emergencies—and they welcomed our expertise. Initially, the hospital staff often referred to us as ophthalmologists, but with the right education, everyone has come to recognize and respect us as optometrists—a significant advancement for our profession.
Recognizing our hard work, dedication and commitment to the hospital, the Board of Directors approved a Section of Optometry, also under the Department of Surgery, which not only recognizes our profession independent of ophthalmology, but also differentiates us as a unique provider among all other specialists.
Hospital Bylaw Options
Several possible categories of hospital privileges exist. Medical staff includes full voting privileges and the ability to serve as an officer on certain committees. Slightly more restricting options include courtesy and consulting privileges, the definitions of which vary depending on the hospital but are generally similar to one another.
Optometrists can also consider becoming a member of the allied health professional staff. However, this group generally needs to act under the supervision of another provider whereas optometrists are independently licensed and provide independent patient care. This is often the easiest category to change in a hospital's bylaws to include optometry, and as long as the bylaws allow optometrists to practice at full scope, you can act independently without supervision. The important part is becoming appointed to the hospital with your full scope of practice, not necessarily the category under which optometry falls. The disadvantages of the allied health professional category are that it typically does not have direct admitting or discharge privileges and is limited in its choice of committees.
Mastering the Hospital Consult
We are called upon for patient care in a variety of ways. We are consulted for inpatient care if a patient has a visual or ocular complaint upon admission or develops one during their hospital stay. We are consulted if the hospitalist has any concern for an underlying ocular or neuro-ophthalmic diagnosis or if a patient is diagnosed with a systemic fungal or bacterial infection that might lead to endophthalmitis.
We typically make a phone call immediately after being consulted and respond in less than 24 hours to see the patient. If ED physicians have an eye emergency they are comfortable initiating treatment for, they will schedule the patient to see us the following day in our office for follow-up care. If they are not comfortable treating, they call us for a phone consult to discuss the case. They then initiate treatment, refer the patient to our office during working hours or request that we see the patient immediately—meaning off-hour and weekend ED visits.
Hospital-owned urgent care centers use the same referral protocols as the hospital itself, and the private practicing doctors all have referral forms to fax to our practice that indicate the level of urgency to help us directly contact their patients to schedule.
Once we obtained privileges, we also helped the hospital purchase the basic equipment we need such as a slit lamp, Goldmann tonometer and minor surgical instruments for foreign body removal. We bring our own handheld equipment, indirect lenses, bandage contact lenses or other portable instruments as needed. In the hospital setting, our care is comprehensive and includes performing minor procedures, prescribing medications for ocular infection or inflammation, coordinating care to prescribe intravenous steroids, antibiotics or acetazolamide and recommending and coordinating patient admission to the hospital. If a patient needs surgical intervention, we coordinate with ophthalmology.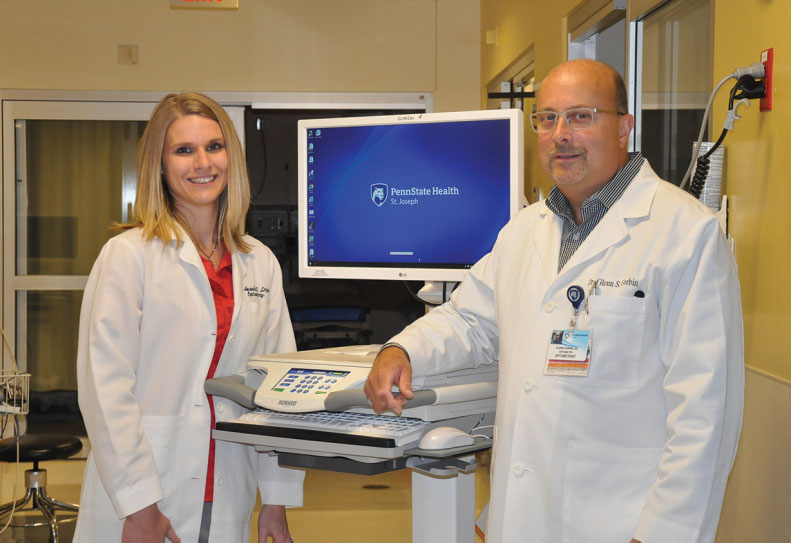 As part of their hospital privileges, Drs. Legge and Corbin have access to the hospital's EMR, which makes it easy to view imaging and lab results, as well as other physician reports.
Pleasant Practice Surprises
As our relationship has grown, hospital staff have asked that we become more involved with their family practice resident and medical student training programs. We now provide lectures for the residents on topics relevant to primary and emergency eye care, have residents and students shadow us when we come to the hospital to examine patients and have residents and students come to our office to shadow our specialty services.
We also coordinate with the hospital to host a free monthly diabetic eye clinic for patients who are uninsured or lack transportation. We also educate diabetes patients about ocular risks as part of the hospital's diabetes education program.
We have garnered numerous referral sources from hospital-owned facilities, as well as from hospital physicians in private practice, including internal medicine, family practice, rheumatology and neurology referrals. An added bonus is our access to ACOs and other affiliations through the hospital.
Obtaining optometric privileges in a hospital setting is mutually beneficial to all parties involved—the hospital, you, your practice and the patients. Both obvious and unpredictable benefits of hospital privileges exist—with few negatives. Our practice is booming, in part because of our hospital affiliation, and yours can be too.
Dr. Corbin is in private practice in Wyomissing, PA, and is chief of the Section of Optometry at the Penn State Health St. Joseph Medical Center.
Dr. Legge is in private practice in Wyomissing, PA.