Q:
I have a 32-year-old keratoconus patient who has already had two graft failures following full thickness grafting on the left eye. He has some peripheral neovascularization circumferentially, but it is not excessive. Is there any new information on minimizing the risk of repeated graft failures to help avoid a third?
A:
Corneal transplant surgery is considered the most successful organ transplant procedure, with 86% of grafts surviving their first year, says Scott G. Hauswirth, OD, of the Ocular Surface Center at the University of Colorado School of Medicine.1 However, high-risk corneal transplant patients—those who have two or more quadrants of corneal neovascularization or have experienced a previous graft rejection—have a five-year success rate of less than 35%, he notes.2,3 Assuming this patient experienced two previous graft failures due to graft rejection—immune-mediated destruction of the corneal endothelium—he would be classified as a high-risk corneal transplant patient.
Corneal graft failure is widely defined as an unresponsive graft edema with a loss of graft clarity, notes Mitch Ibach, OD, of Vance Thompson Vision.4 Causes of graft failure are either immune-mediated or non-immune-related, which include primary donor failure, endothelial decompensation, glaucoma, corneal melt, corneal ulcer, exposure keratitis and ocular surface disease, says Dr. Hauswirth.5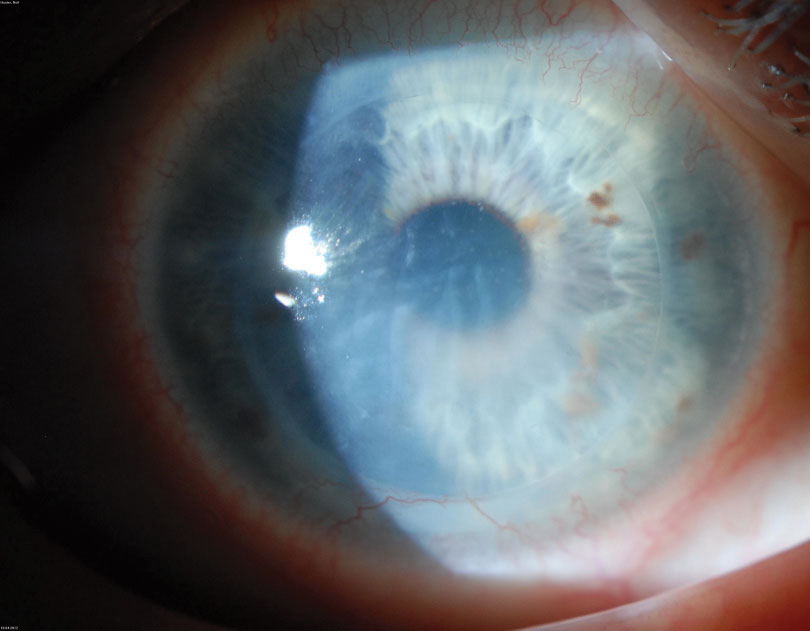 This patient is experiencing graft rejection, an immune-mediated cause of graft failure. Photo: Chrisopther Rapuano, MD.
High Risk, Low Odds

While the odds are not in his favor, this patient has a few options, including an endothelial keratoplasty (EKP) and a Boston keratoprosthesis (KPro) Type I. EKP quickly recovers best-corrected acuity, has a lower risk of transplant rejection and does not require extensive suture removal, according to Dr. Ibach. If the area over the visual axis is mildly edematous but free of neovascularization and scar formation, Dr. Hauswirth recommends performing a Descemet's stripping endothelial keratoplasty. He says replacing the endothelium may help clear the cornea to restore vision and is less invasive than a repeat penetrating keratoplasty (PKP). In addition to the presence of scar tissue, Dr. Hauswirth notes it is important to consider the posterior topography of the graft, which may affect adhesion of the endothelial lenticle.6
Prior graft failure is one of the leading reasons for Boston KPro Type I use, according to Dr. Hauswirth.7 Retention and success rates with the Boston KPro have increased, he notes; a study suggests that the chances of maintaining vision better than 20/200 and a clearer graft were greater with a Boston KPro than a repeat PKP.8 Dr. Hauswirth says patients receiving a Boston KPro, however, must be carefully monitored for glaucoma and maintain topical antibiotic use and contact lens wear to reduce the risk of corneal melt.7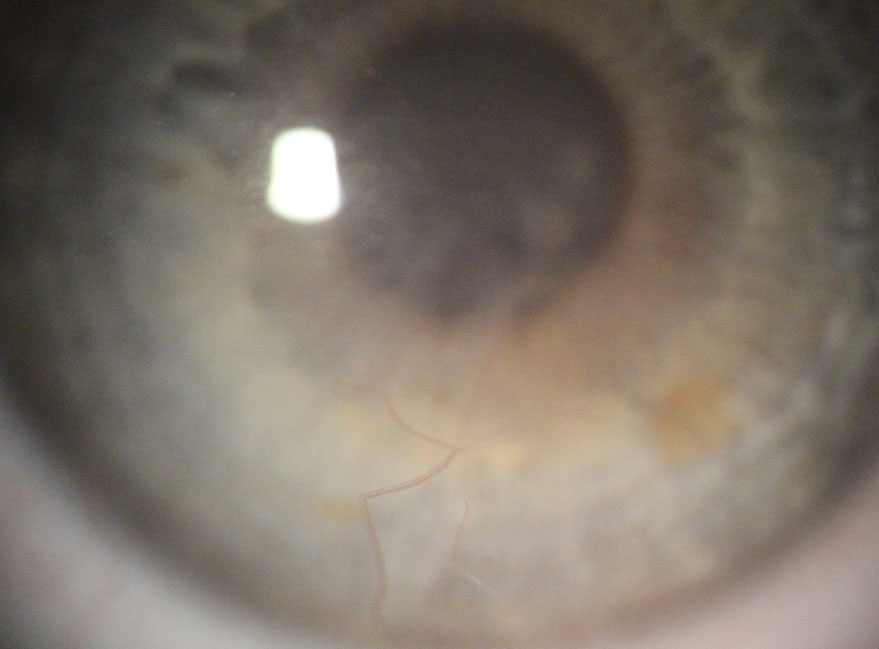 Here is a patient with deep stromal neovascularization before being treated with Avastin subconjunctival injections. Photo: Mitch Ibach, OD.
Medicate, Monitor and Hope

An emerging treatment for patients with advancing corneal neovascularization, which increases the risk of graft rejection, is to use anti-vascular endothelial growth factor agents such as Avastin (bevacizumab, Genentech), topical drops and subconjunctival injections, according to Dr. Ibach.9 He adds that administering Avastin before performing a PKP on a patient with progressing neovascularization is prudent for graft survival. A study evaluating 50 eyes that received Avastin subconjunctival injections immediately following PKP found that 70% of the grafts survived during the three years of follow-up.10
Immunosuppression plays another key role in improving the chances of graft survival in high-risk corneal transplant patients, according to Dr. Hauswirth. A survey of Cornea Society members found that, to suppress the immune response in high-risk patients, respondents preferred using either Pred Forte (prednisolone acetate 1.0%, Allergan) or Maxidex (dexamethasone 0.1%, Novartis) six to eight times per day for eight months as the postoperative regimen.11 Oral cyclosporine, oral tacrolimus and Cellcept (mycophenolate mofetil, Genentech)—which suppresses dendritic cell maturation, reduces antibody formation and induces T-lymphocyte apoptosis—also prolong graft survival but require monitoring, says Dr. Hauswirth.12-18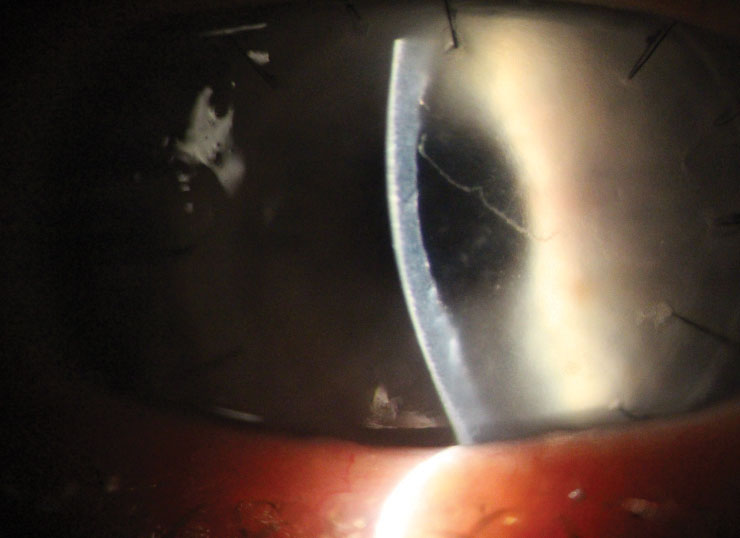 This patient has an acute corneal graft rejection and a Khodadoust line, both of which could lead to graft failure. Photo: Mitch Ibach, OD.
Survival of the fittest

To further improve the chances of graft survival, it is important to prevent rejection episodes, avoid intraocular pressure (IOP) spikes and fend off microbial keratitis, says Dr. Ibach. He suggests clinicians regularly apply topical steroids if IOP issues do not present. In the event of an acute rejection episode, Dr. Ibach notes that aggressive topical and oral steroids can reverse the corneal edema and immune reaction.


He also recommends clinicians use aqueous suppressants when treating a corneal transplant patient with steroid-induced IOP spikes. Finding the balance between using topical steroids for graft health and glaucoma drops to lower IOP can be a struggle; Dr. Ibach encourages clinicians to exercise caution when dealing with carbonic anhydrase inhibitors and prostaglandin analogs to avoid harming the endothelial cells.
He adds that microbial keratitis is a threat throughout the life of the graft. For better outcomes, he notes that patients should be treated prophylactically with topical antibiotics immediately after surgery. Due to the presence and removal of sutures, however, epithelial breakdown and infection are still possible, according to Dr. Ibach.
While clinicians can take several steps to minimize the risk of graft failure, this patient has already had two, and, unfortunately, his next corneal graft almost assuredly will not be his last, says Dr. Ibach. This highlights the importance of educating the patient on signs and symptoms of graft rejection and failure so both patient and provider can work together to monitor and manage the graft appropriately.
1. Williams KA, Esterman AJ, Bartlett C, et al. How effective is penetrating corneal transplantation? Factors influencing long-term outcome in multivariate analysis. Transplantation. 2006;81(6):896-901.
2. The collaborative corneal transplantation studies (CCTS). Effectiveness of histocompatibility matching in high-risk corneal transplantation. The Collaborative Corneal Transplantation Studies Research Group. Arch Ophthalmol. 1992;110(10):1392-403.
3. Abud TB, Di Zazzo A, Kheirkhah A, et al. Systemic immunomodulatory strategies in high-risk corneal transplantation. J Ophthalmic Vis Res. 2017;12(1):81-92.
4. Kelly TL, Williams KA, Coster DJ, et al. Corneal transplantation for keratoconus: a registry study. Arch Ophthalmol. 2011;129(6):691-7.
5. Price MO, Thompson RW Jr., Price FW Jr. Risk factors for various causes of failure in initial corneal grafts. Arch Ophthalmol. 2003;121(8):1087-92.
6. Anshu A, Price MO, Price FW Jr. Descemet's stripping endothelial keratoplasty under failed penetrating keratoplasty: visual rehabilitation and graft survival rate. Ophthalmology. 2011;118(11):2155-60.
7. Saeed HN, Shanbhag S, Chodosh J. The Boston keratoprosthesis. Curr Opin Ophthalmol. 2017;28(4):390-6.
8. Ahmad S, Mathews PM, Lindsley K, et al. Boston type I keratoprosthesis versus repeat donor keratoplasty for corneal graft failure: a systematic review and meta-analysis. Ophthalmology. 2016;123(1):165-77.
9. The Australian Corneal Graft Registry. 1990 to 1992 report. Aust N Z J Ophthalmol. 1993;21(2 Suppl):1-48.
10. Dekaris I, Gabrić N, Drača N, et al. Three-year corneal graft survival rate in high-risk cases treated with subconjunctival and topical bevacizumab. Graefes Arch Clin Exp Ophthalmol. 2015;253(2):287-94.
11. Kharod-Dholakia B, Randleman JB, Bromley JG, et al. Prevention and treatment of corneal graft rejection: current practice patterns of the Cornea Society (2011). Cornea. 2015;34(6):609-14.
12. Hill JC. Systemic cyclosporine in high-risk keratoplasty. Short- versus long-term therapy. Ophthalmology. 1994;101(1):128-33.
13. Shimazaki J, Den S, Omoto M, et al. Prospective, randomized study of the efficacy of systemic cyclosporine in high-risk corneal transplantation. Am J Ophthalmol. 2011;152(1):33-9.
14. Joseph A, Raj D, Shanmuganathan V, et al. Tacrolimus immunosuppression in high-risk corneal grafts. Br J Ophthalmol. 2007;91(1):51-5.
15. Sloper CM, Powell RJ, Dua HS. Tacrolimus (FK506) in the management of high-risk corneal and limbal grafts. Ophthalmology. 2001;108(10):1838-44.
16. Allison AC, Eugui EM. Mechanisms of action of mycophenolate mofetil in preventing acute and chronic allograft rejection. Transplantation. 2005;80(2 Suppl):S181-90.
17. Birnbaum F, Mayweg S, Reis A, et al. Mycophenolate mofetil (MMF) following penetrating high-risk keratoplasty: long-term results of a prospective, randomised, multicentre study. Eye (Lond). 2009;23(11):2063-70.
18. Reinhard T, Reis A, Böhringer D, et al. Systemic mycophenolate mofetil in comparison with systemic cyclosporine A in high-risk keratoplasty patients: 3 years' results of a randomized, prospective trial. Graefes Arch Clin Exp Ophthalmol. 2001;239(5):367-72.