Meet the Judges

These three practices won our 2015 Office Design Contest and provided expert feedback to help choose this year's winners:



Andrew Howard, OD, owner of LaFollette Eye in Jacksboro, Tenn.
Dr. Howard used colors on the floor to help patients navigate the office loop from the lobby, through testing and exams to the eyewear gallery without backtracking.



Midwest Eye in Downers Grove, Ill.


This office now boasts a bold lime green and orange color scheme with an open loft design, giving patients a uniquely modern experience.



Benjamin W. Kachelman, OD, from Florence Eye Center in Florence, Ala.


Florence Eye Center, once a dry goods store, tailor shop, bank and then an attorney's office, is now 7,400sq.ft. of "creative and artistic space," according to our 2015 judges

.

State-of-the-art equipment and high-tech exam lanes are testing the boundaries of today's optometry office. The profession, and its technology, continues to evolve, yet many office spaces do not, leading to cramped pre-testing areas and a sluggish workflow.
For those who bite the bullet and redesign a new or existing space to meet their needs, the payoff can be huge. This year's office design contest entrants did just that, and they are thrilled with the outcome.
"Our new office is night-and-day from our old space," said Will Tantum, OD, CEO of Blount County Eye Center in Maryville, Tenn., one of our winners. "The old office was 'cookie-cutter' in terms of design. It wasn't necessarily a bad design, but it also wasn't truly genuine either. We sought to create a space that made people in our community proud to come for eye care; we wanted to create a space that reflected our values."
Dr. Tantum, and each of the 2017 winners, certainly delivered on their promise for a better patient experience. Open concepts, stylish designs, snack bars, music and efficient workflows are just a few of the upgrades patients can enjoy in these new spaces. The prevailing approach to renovations was two-pronged: seamless integration of technology in a luxurious atmosphere. While everyone showed off spa-like designs with cutting-edge new gadgets, three stood out with their keen eye for efficiency, equipment integration, ergonomics and aesthetics.
Take a look at this year's redesigned practices that went above and beyond to provide patients and staff the space of their dreams.
Winner
Swell Vision Center, Leland, NC
Craig Scibal, owner
Dr. Scibal, of Leland, NC, uses frosted barn doors to section off his office space when needed—and they wooed this year's judges. "The frosted doors are a great way to offer privacy while allowing patients to not feel secluded. And who doesn't love barn doors?" asked Pam Peters and the Midwest Eye team, one of this year's judges.
Chosen as this year's best overall office design, Swell Vision Center boasts 2,200sq.ft. of space designed to "make the office simple, elegant and to minimize clutter," Dr. Scibal said.
While the exposed brick, concrete floors and natural wood accents "invite the patient with comfort, blending the rustic and modern concept," the integration of a custom design and technology creates an exceptional office flow. The L-shaped reception desk makes it easy to greet and care for patients the minute they walk through the door—and those barn doors the judges were so fond of? Throughout the office they "create the unique ability to 'compartmentalize' sections of the office, which enhances lighting and privacy in several areas," Dr. Scibal said.
The optical uses a mobile laptop linked with their cloud-based electronic health record to ensure timely patient care, even if the optical bar is crowded.
Pretesting—consisting of both new and used equipment to keep up with advancements without breaking the bank—is divided so that more than one patient can flow through at the same time, and all exam rooms have new equipment and integrated computers. Even in the exam rooms, patient and practitioner comfort is achieved with style. "The modular storage desk in the exam room makes it easy to showcase various optometric lenses and equipment, and the proximity allows intimate overview of retinal photos," adds Dr. Scibal.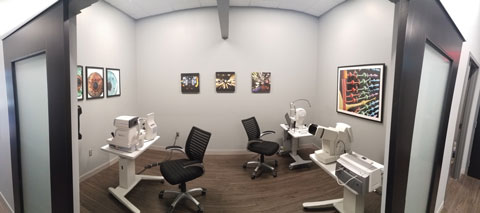 Patient care is priority number one in this office, but they also remembered the extras that make a patient's visit special. The spa-like experience begins before the patient even enters the office, as receptionists take refreshment (including beer and wine) and music requests for the patient's visit. Dr. Scibal's dog, Horatio, is the office greeter, and patients are welcome to show up with their own pooch in tow. Candles are strategically placed throughout the practice to enhance the experience, according to Dr. Scibal.
"This office was designed exactly how I would want going into an establishment," Dr. Scibal says. "Every single piece of furniture, equipment, scent, wood finish, etc., has been individually selected to promote an unbelievable and memorable eye care experience."
"I would love to walk into this clinic—it doesn't look clinical at all!" says another judge, Andy Howard, OD, of LaFollette Eye in LaFollette, Tenn. "And that exam room furniture is like none other I've seen. I want it!"
1st Runner Up
Accurate Vision Clinic, Anchorage, Alaska
Benjamin Crawford, OD, CEO
Our first runner up hails all the way from Anchorage, Alaska, where they, like this year's winner, also focused on a modern, uncluttered look. This 5,000sq.ft. industrial-chic office may boast exposed beams and ductwork—but not equipment. All the data from their pretesting rooms is transferred electronically to the exam rooms for easy review with the patient. In addition, "we integrated the wiring for our TRS refraction systems into the walls of the exam room. We wanted to keep the office as 'clean' as possible without any clutter," says Dr. Crawford.
"I love the digital integration of work-up and exam room data, which makes this office not only functional, but beautiful," says Dr. Howard.
And beauty, some would argue, is just as important to patients when it comes to office aesthetics.
"The clean, inviting design makes me want to stay a while, which is great for sales," says Dr. Howard. "I was looking for spaces that invite me to enter and explore, and this practice does just that. That front desk! Am I in an eye care practice or a spa? I can't tell the difference, and that's a good thing. The color pops, very appropriate for an eye clinic."
As much as any patient enjoys a beautiful space, they will always appreciate efficiency, and this office delivers. A huge focus for the redesign was improved patient flow, and now staff can effortlessly move patients from the reception area, through the pretesting room—which is a long, narrow room with a station for each of their instruments—into the exam rooms, and then to the optical.
"Our staff can easily guide the patient through each step," said Dr. Crawford.
At the end of the day, this colorful, tech-savvy office brings a smile to everyone's face.
"The staff loves coming to work every day in the new office, as do I," says Dr. Crawford. "It's definitely been a team morale booster, and everyone has a sense of pride when showing it off to patients. Our existing patients are always impressed with the new space, and new patients often say that they've never been to an eye clinic quite like ours!"
2nd Runner Up
Blount County Eye Center, Maryville, Tenn.
Will Tantum, OD, CEO
Space was the key for Blount County Eye Center, this year's second runner up. "This place is super-sized!" says Dr. Howard. "I can imagine being a patient entering the giant space and just saying, 'wow!'"
"Going from 2,500sq.ft. to just under 10,000sq.ft. has been a game-changer," explains Dr. Tantum. "When patients enter an open space, it makes them feel less cramped from the start of their experience. Oversized exam lanes create a more comfortable working environment and allow patients to stretch out."
With more room, the practice expanded from one full-time and one part-time OD to five full-time docs and now hosts the regions first full-service vision therapy clinic—and even a suite of exam rooms specifically designed for kids, Dr. Tantum says. With so much space, they're even able to host community events. "Because we designed the lobby/optical to be so open, we can easily clear it out and host local community groups, meetings and events," says Dr. Tantum. "Not many other optometry practices can say that!"
Far from cookie-cutter now, the office provides any number of usual—and unusual—luxuries for patients, including a larger, safer parking lot, a drive-thru window for optical dispensing, upgraded technology in all six exam lanes and even an open-concept lab. "The lab windows have proved to be a treat for our patients, as they now like to stand and watch 'how the magic of optical happens.' People love standing there and watching their lenses run through the edger."
Amid all these patient "wows," Dr. Tantum made sure to take care of his team too. An oversized and fully functional kitchen gives everyone a space away from the hustle and bustle to relax during breaks. The massive contact lens and supply storage area, a lab quadrupled in size and "the region's largest optical" gives everyone the space they need to do their jobs efficiently and with the privacy many patients demand.
"There is something to be said for a spectacular layout," says Benjamin W. Kachelman, OD, from Florence Eye Center, one of our judges. "That leads to great flow, which leads to money in the bank."