In last month's column, we discussed the potential benefits and pitfalls of "dropless" cataract surgery. Although promising, only a small percentage of surgeons have embraced this technique, and some patients, due to the nature of their condition or associated comorbidities, are simply not candidates. Luckily, several companies have developed a variety of additional techniques that aim to improve postoperative cataract care for these patients.

Less is More
The same company that helped bring dropless surgery to the masses, Imprimis Pharmaceuticals, has also developed a number of compounded drugs designed to streamline post-op management of both cataract and refractive surgery. Currently, most surgeons employ three separate drops in their post-op regimen: a topical antibiotic, corticosteroid and nonsteroidal anti-inflammatory drug (NSAID). When considering the current market leaders in these categories—i.e., Besivance (besifloxacin 0.6%, Bausch + Lomb), Durezol (difluprednate 0.05%, Alcon) and Prolensa (bromfenac 0.07%, Bausch + Lomb)—the out-of-pocket expense for patients can be upwards of $500. Generic medications can reduce costs considerably, but do little or nothing to simplify the postoperative regimen.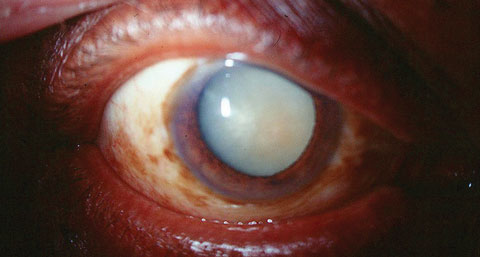 Removal of a dense cataract, such as the one seen here, can require the patient to commit to a drop schedule that may be confusing. Luckily, several options can help eliminate, reduce or assist with the need for postop drops.
Click image to enlarge.
The use of multiple drops, often with differing frequencies, can be confusing for patients and lead not only to callbacks and questions but, potentially, to toxicity and other medical complications.1

Currently, Imprimis manufactures three compounded formulations for topical use. Branded as LessDrops, the products include:
Pred-Gati (prednisolone acetate 1% and gatifloxacin 0.5%)
Pred-Nepaf (prednisolone acetate 1% and nepafenac 0.1%)

Pred-Gati-Nepaf (prednisolone acetate 1%, gatifloxacin 0.5% and nepafenac 0.1%)
Each of these products is supplied in a 3mL bottle, sufficient for two weeks of therapy at QID dosing. The list price for the two-drug combinations is $25 each; for the three-drug combination, the price is $30.2 LessDrops must be ordered through the physician's office, but may be shipped either to the doctor or directly to the patient.2

Two other American companies have recently introduced similar products. APS Pharmacy currently offers a line of products called SmartDrops. This line also consists of three combination agents:3
prednisolone 1% with moxifloxacin 0.5%
prednisolone 1% with ketorolac 0.4%

prednisolone 1% with moxifloxacin 0.5% and ketorolac 0.4%
Per their website, SmartDrops is a patent-pending pharmaceutical solution matrix technology created to stabilize multiple active ingredients that do not typically mix. The technology micronizes the particles to enhance solubility, create uniform distribution, balance the pH and maintain the specific gravity to obtain one complete isotonic solution.3 At present, these products are available and licensed in 45 states.

Another company in this race, Ocular Science, has created a product line under the name Droplet, which includes four postoperative drop formulas:4
Pred-Moxi (prednisolone phosphate 1% and moxifloxacin 0.5%)
Pred-Ketor (prednisolone acetate 1% and ketorolac tromethamine 0.5%)
Pred-Moxi-Ketor (prednisolone acetate 1%, moxifloxacin 0.5% and ketorolac tromethamine 0.5%)

Pred-Levo (prednisolone sodium phosphate 1.5% and levofloxacin1.5% )
The Droplet formulations are supplied in 6mL bottles and cost approximately $50 per bottle.4
Punctal Implants
In another effort to simplify the postoperative experience for physicians and patients, Ocular Therapeutix has developed Dextenza, a 0.4mg dexamethasone implant for intracanalicular use, indicated for the treatment of ocular pain after ophthalmic surgery. Although not yet approved for use in the US, Dextenza completed Phase III clinical trials and submitted the results to the Food and Drug Administration (FDA) in September 2015. Despite failing to receive approval, the drug-eluting implant met its primary endpoint regarding the elimination of postoperative pain on day eight following surgery, as compared with the placebo/control group.
5,6
Additionally, a study shows the proportion of patients with an absence of anterior chamber cells was significantly greater in the dexamethasone implant group on days 14 and 30 postoperatively than in the control group.
6
Ocular Therapeutix continues to pursue approval for Dextenza. On January 23, the company announced that it had resubmitted a new drug application to the FDA for Dextenza. They are concurrently pursuing other indications for the device too, including ocular allergy and dry eye disease.
7,8
Eye Drops on Your iPhone
Finally, for those who don't wish to deviate from the current standard of postoperative medications, but still wish to help simplify drop use for their patients—there's an app for that. In fact, there are several available for the Apple iPhone and Android devices. For instance, the Easy Drops app (Milan Eye) allows patients to access the surgeon's individual profile, select the medication regimen for their surgery and set reminders for drop instillation. It also offers practice contact information, patient portal access, videos about the practice, appointment reminders that interface with the phone's calendar and a progress monitor.
While this app is free for patients, physicians and their practices must have an active account for their patients to use it. Doctors can register at easydropsapp.com. Fees for their basic package are $150/month or $1500/year (per doctor for one to four docs/practice).
Apps that are free for both the patient and doctor offer less personalized service, but can still help patients track progress with their drop regimen. One such app is Eye Dr from the Queensland Eye Institute. This simple program permits up to four medication reminders per day, which can be personalized to include the name of the drops. There are additional options within this app for patients with glaucoma and macular degeneration, including a script reminder, appointment reminder and Amsler grid. Similarly, Round Health's Medicine Reminder and Pill Tracker allows patients to enter their medications—drops, pills, inhalers, etc.—and set reminders for when and how to administer them. The app can also remind the patient when it's time to order refills (although this feature is more applicable to pills than other forms of medication). Finally, EyeDropTimer (Matthew Hayson) can help patients maximize topical drug absorption. As the name suggests, patients use this app to ensure that they keep their eyes closed for a set period between eye drops, signaling that the time has concluded by activating a chime on the phone.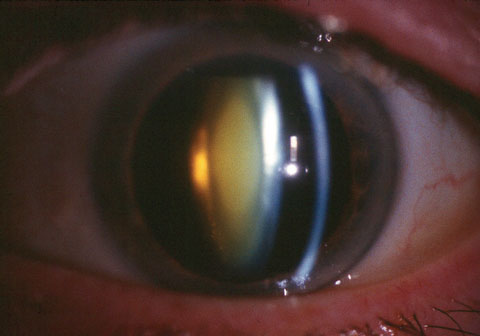 This patient displaying white nuclear scatter will face a drop regimen for which they may not have the skills to follow. A variety of modern options are designed to assist.
Easy Access, Happy Patients
Patients today demand greater convenience when it comes to elective procedures such as cataract surgery. The doctors who perform these surgeries, and those who provide postoperative care, need to create greater value and employ new technologies to ensure patient satisfaction and practice success.
1. An JA, Kasner O, Samek DA, Lévesque V. Evaluation of eyedrop administration by inexperienced patients after cataract surgery. J Cataract Refract Surg. 2014 Nov;40(11):1857-61.
2. ImprimisRx. LessDrops. Available at: www.imprimisrx.com/formulations/ophthalmology/lessdrops. Accessed: January 20, 2017.
3. SmartDrops—post operative treatment, simplified. Available: www.smartdropsrx.com. Accessed: January 20, 2017.
4. Ocular Science—leading the way in ocular biotech. Available: www.ocularscience.com. Accessed: January 20, 2017.
5. Ocular Therapeutix receives complete response letter from FDA for its NDA for Dextenza for the treatment of post-surgical ocular pain. Available: http://investors.ocutx.com/phoenix.zhtml?c=253650&p=irol-newsArticle&ID=2187717. Accessed: January 20, 2017.
6. Walters T, Endl M, Elmer TR, et al. Sustained-release dexamethasone for the treatment of ocular inflammation and pain after cataract surgery. J Cataract Refract Surg. 2015 Oct;41(10):2049-59.
7. Dextenza. Available: www.ocutx.com/pipeline/dexamethasone-punctum-plug. Accessed: January 20, 2017.
8. Torkildsen G, Abelson MB, Gomes PJ, et al. Vehicle-controlled, phase 2 clinical trial of a sustained-release dexamethasone intracanalicular insert in a chronic allergen challenge model. J Ocul Pharmacol Ther. 2017 Jan 10. [Epub ahead of print].