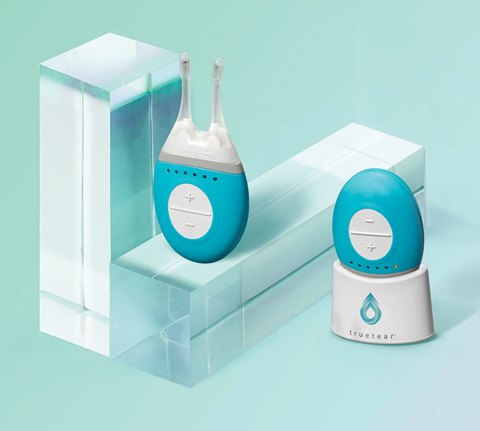 Image: Allergan
Dry eye patients have traditionally relied on artificial tears to help replace reduced tear production. Now, they can consider TrueTear (Allergan), an FDA-cleared device developed to temporarily increase tear production in adult patients through neurostimulation of cranial nerve V, which officially launches today during the American Society of Cataract and Refractive Surgery annual meeting in Washington, DC.
The device, using disposable tips, is inserted into the nasal cavity and produces pulses of energy to induce the production of natural tears through activation of the lacrimal functional unit. This in turn stimulates secretion of aqueous glands, goblet cells and meibomian glands. Patients will pay out of pocket for the device and its disposable tips, to be replaced monthly.
Study results show the device is safe and effective for temporarily increasing tear production in adult patients, according to Allergan.
"TrueTear is the first device of its kind, providing a temporary increase in tear production with neurostimulation, thereby returning the ocular surface to a more normal physiologic state without prescribing drops or surgery," John Sheppard, MD, professor of Ophthalmology at Eastern Virginia Medical School and President of Virginia Eye Consultants in Norfolk, Va., said in an Allergan press release.
Allergan. Allergan announces launch of the TrueTear intranasal neurostimulation device during 2018 ASCRS-ASOA annual meeting. News Release. April 13, 2018.