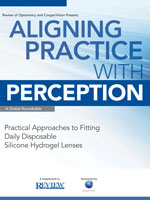 Aligning Practice with Perception—A Global Roundtable. Sponsored by Cooper Vision
Sponsored by Cooper Vision
In this report, an esteemed panel of contact lens practitioners will analyze the disconnect between what we believe or desire and what we ultimately prescribe. As you'll learn, we have strong opinions about the ocular health benefi ts of daily disposable silicone hydrogels, yet our tendency to prescribe them doesn't refl ect these beliefs.